Dream Drops CBD Chocolate
Delicious Belgian chocolates with potential calming effects.
You may also like:


Overview
Chocolate has always been good to our tongues, and now it can feel good for the rest of our bodies too!

Dream Drops are tasty chocolates made with a hemp extract that's organically grown by certified farmers. Unlike the drugs commonly associated with hemp, CBD oil contains no active THC; in short, this stuff won't get you high (or cause a desire to listen to jam bands). However, many users report a calming sensation along with a decrease in chronic pain, anxiety, inflammation, depression, and more.

These amazing effects are accompanied by the delicious taste of these Belgian chocolates. Available in two varieties, the dark chocolate contains a flourish of popping candy while the white chocolate is imbued with a hint of peppermint oil. Take a Drop and try a whole new candy experience!

Please note that this item cannot be shipped outside the US.
Features & specs
Belgian chocolates that contain hemp extract
Non-psychoactive (does not get you high)
May reduce anxiety, inflammation, chronic pain, and more
20 chocolates per container
Available in dark chocolate and white peppermint chocolate
Dark chocolate contains hints of orange flavoring, popping candy, and sea salt
White peppermint chocolate contains matcha powder, peppermint oil, and cherrywood smoked salt
Vegan and gluten-free
Net Wt. 7.14 oz (200g)
Made in the USA
1 chocolate contains 10mg of cannabidiol
The ingredients in this product have not been evaluated by the FDA. This product is not intended to diagnose, treat, cure, or prevent any disease.
Love our videos? Please subscribe to our YouTube channel:
Tastes as good as it feels
The first sensation you'll notice in Dream Drops is their amazing taste. Available in two flavors, these treats are just as tasty as chocolate confections… because they are!
The Dark Belgian Chocolate is supplemented with a pinch of sea salt, a hint of orange flavoring, and the sweet eruption of popping candy. The popping candy is subtle enough to not overwhelm the chocolate but present enough to provide a special sensation befitting this unique confection.
The White Chocolate is imbued with a tasty dose of peppermint oil alongside cherrywood smoked salt and matcha powder. It's the perfect vehicle for someone looking for a sweet and refreshing way to try this new experience.

Dream Drops are made with natural, artisanal ingredients.
Works like a dream
If your dream is chocolate that can improve your physical and mental state, these Drops are for you.
Each Dream Drop contains 10mg of cannabidiol, a chemical compound found in cannabis plants. This compound doesn't produce the high of other cannabis-derived products, but it does have other desirable effects. Users of CBD products commonly report a warm, relaxing sensation. The compound has also been reported to decrease anxiety, chronic pain, inflammation, and more.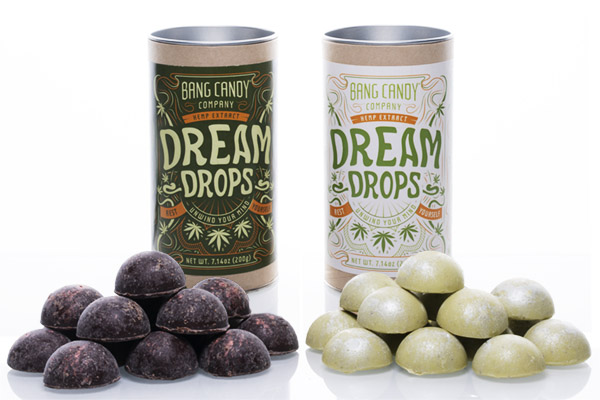 Each chocolate contains 10mg of cannabidiol.
Frequently Asked Questions
Question: Is this gonna get me high?
Answer: Dream Drops will not get you high. Although they are derived from the cannabis plant, they do not contain any THC.
Question: What's the right serving to take?
Answer: We recommend starting with one chocolate. Some people prefer taking multiple chocolates at once while others prefer a single chocolate at a time.
Question: Is this for children?
Answer: CBD does not have an age restriction. These chocolates are not necessarily intended for children, but that decision is ultimately left to the parents.
Question: Will I start feeling it right away?
Answer: Ingesting any CBD product generally takes at least 20 minutes to start affecting you.
Question: So is this like a medicine then?
Answer: CBD has not been reviewed by the FDA and is not intended to diagnose, treat, cure, or prevent any disease. The effects we mention on this page are based on commonly reported user experiences.
This product has been discontinued. Frown face!
Sorry, but this item is no longer available for purchase.
Burning Questions: You Ask, We Answer
Your questions that have been answered by the Vat19.com staff:
Sort by: Show Only:
Want to ask your own Burning Question?
Unfortunately, this product is not currently available for purchase. Therefore, we cannot accept any new burning questions. Sorry!