Mberry Miracle Berry Fruit Tablets
The amazing tablet that turns sour foods sweet.

Videos





Watch video for: Miracle Berry Fruit Tablets

Video: Jon and Joey pit mBerry against Vat19's sour candies... and Pure Citric Acid!

Video: VAT19 Goes on a Taste Trip! | Miracle Berry | VAT19

Video: Will Kids Drink Lemon Juice? [Mberry Challenge]

Video: mBerry vs Ctric Acid Cotton Candy
Overview
Mberry Miracle Fruit Tablets cause sour, bitter, and acidic foods to taste sweet. After allowing one of the all-natural tablets to dissolve on your tongue, you will enjoy food and drinks like you've never experienced them before.

Made from the berries of the miracle fruit plant, Miracle Fruit Tablets are 100% safe, 100% legal, and 100% awesome. Lemons become sweet lemonade, vinegar takes on the flavor of apple juice, and strawberries magically transform into powdered sugar.

Each set includes ten Mberry Miracle Fruit Tablets. Please note that the intensity and duration of effect varies by the individual.
Features & specs
10 tablets
Effect lasts 15 minutes to 2 hours (depending on person)
Ages 5+ (with adult supervision)
100% natural
You may also like:
Love our videos? Please subscribe to our YouTube channel:
Experience a tastebud transformation
Mberry Miracle Fruit Tablets contain no sugars or additives, but turn sour, acidic, and bitter flavors amazingly sweet through a 100% naturally occurring phenomenon.
In the days before the word "epic" lost all of its true meaning, words like "miraculous" were reserved for events occurring through divine intervention.
Thus, when Synsepalum dulcificum was discovered by a European explorer in 1725, it must have truly seemed supernatural. Chewing on this "miracle fruit" causes sour foods to taste mind-blowingly sweet.

After taking a Miracle Fruit Tablet, sour foods will taste gloriously sweet.

Host a "flavor tripping" party!
After experiencing that first taste of a sweet lemon, you may think that your tongue has gone bat guano crazy. Then you'll realize what inhabitants of West Africa have known for centuries: "Miracle Berry" was a good name choice!
Your logical next step is to sample dozens of other foods to experience the Miracle Fruit effect. Heck, make an event out of it and invite over some friends. It's much more fun to suck down spoonfuls of lemon juice with like-minded individuals experiencing the same sensations.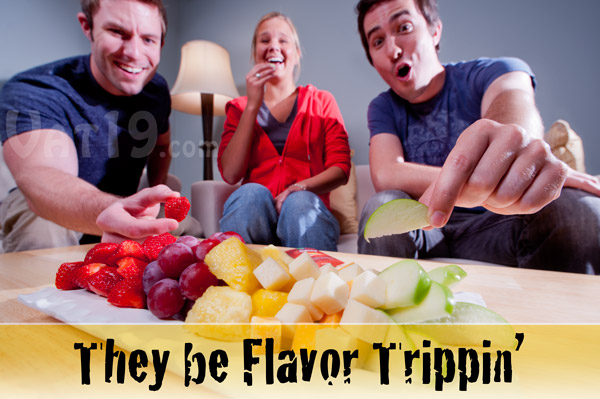 Have over a few friends and experience the sweet sensations of the Miracle Fruit Tablet.

Pairing suggestions
The manufacturer has provided a list of foods that will blow your mind when paired with the Miracle Fruit Tablet:
Lemons and limes, oranges, tomatoes, cranberries, grapefruit, kiwi, pineapple, granny smith apples, strawberries, pomegranate, raspberries, grapes, watermelon, blackberries
Rhubarb, mustard, ketchup, salt & vinegar chips, pickles, sour cream
Hot sauce, balsamic vinegar, BBQ sauce, stout beer, generic tequila, goat & bleu cheese
Seriously, this stuff is crazy!
We sat around the conference table at Vat19.com and each of us allowed a Miracle Fruit Tablet to dissolve on our tongues. About two minutes later, we were fighting each other to slurp teaspoons of lemon juice and vinegar.
Our tastebuds had been profoundly transformed! That intense puckering that follows sour foods was completely gone. Lemon juice tasted like the best lemonade we'd ever had. It's truly amazing stuff.

You'll be surprised at what you'll be craving once you pop a Miracle Fruit Tablet.

All-natural, safe, and legal
The Miracle Fruit Tablet is simply an all-natural berry in concentrated powder form. The only other ingredient is corn starch which is used as a binder to form the tablet.
Each set of Miracle Berry Tablets includes ten tablets. Please note that the berry of the Miracle Fruit Plant is perfectly legal to grow, sell, and consume in the United States.

Each set of Mberry Tablets includes 10 all-natural miracle berry fruit tablets.

Frequently Asked Questions
Question: Is this safe and legal?
Answer: Yes. It is 100% safe and legal. The miracle fruit berry is a natural fruit that has been cultivated and eaten for centuries. It is completely harmless (unless you consider rocking your tastebuds a bad thing). These tablets are simply a concentrated powder with corn starch used as a binder.
Question: Does it really work?
Answer: Yes. The entire staff at Vat19.com tried the tablets and everyone experienced the effect similarly. However, the manufacturer reports that the intensity of the effect is felt differently by some people. Basically, some individuals will experience a strong difference in taste while others will feel it more mildly.
Question: Will it really make lemons taste like lemonade?
Answer: We built a lemonade stand to find out! Check out the results in the video below.
Question: How long does it last?
Answer: The length of the effect can range from 15 minutes to 2 hours depending on the person.
Question: How does it work?
Answer: The miracle berry (Synsepalum dulcificum) is a small red fruit that contains a glycoprotein (Miraculin) that coats the taste buds and temporarily alters their shape. This causes your taste receptors to interpret certain flavors (mostly sour ones) far sweeter.
Question: What about super sour cotton candy doused in pure citric acid?
Answer: Funny you should ask...
Question: What are the best foods to try?
Answer: In our experience, you're going to achieve the best effects with sour, bitter, or acidic foods. Strawberries, Granny Smith Apples, and hard cheeses are wonderful. Also, lemon juice and vinegar are a true mind blow. The best part of the Miracle Fruit Tablet is the fun in experiencing familiar foods in a new way.
Ingredients: miracle fruit powder, corn starch
Allergen Statement: We are not aware at this time of any allergens associated with this product.
Halal: No See all Halal
Gluten Free: Yes ✔ See all Gluten Free
Kosher: No See all Kosher
Nutrition Facts
Serving Size 1 tablet (about 0.4 g)
Serving Per Container 10
Amount Per Serving
Calories 0
Calories from Fat 0
% Daily Value*
Total Fat 0g
0%
Saturated Fat 0g
0%
Trans Fat 0g
Cholesterol 0mg
0%
Sodium 0mg
0%
Total Carbohydrate 0g
0%
Dietary Fiber 0g
0%
Total Sugars 0g

Includes 0g added sugars

Protein 0g
Burning Questions: You Ask, We Answer
Your questions that have been answered by the Vat19.com staff:
Sort by: Show Only:
Want to ask your own Burning Question?

First, please watch the

video

to the right. It explains the Burning Question feature and answers some common questions.

Now, if there is something that you need to know about this product that we've omitted, please send us an anonymous question and we promise to answer it within 1 business day.
Please excuse the shameless cross promotions!