Flying Wish Paper Kits
Write a wish, light it on fire, and watch it fly!
You may also like:
Overview
Flying Wish Paper is the most unique way you'll ever make a wish. Simply write your wish on the wish paper, roll it into a tube, light it on fire, and watch in amazement as it literally flies into the air. They're an awesome way to celebrate birthdays, anniversaries, or even 3rd Wednesdays of the month.

Flying Wish Paper is available in two kits which both include the wish paper, wish platforms, and pencils.

Mini kit includes 15 sheets of wish paper, 5 wish platforms, and one pencil. Large kit includes 50 sheets of wish paper, 25 wish platforms, and five pencils.
Features & specs
Wish paper: 4" x 4"
Wish platforms: 4" x 4"
Available in two kit sizes: Mini and Large
Pencil: One (mini kit) | Five (large kit)
Paper: 15 sheets (mini kit) | 50 sheets (large kit)
Platforms: Five (mini kit) | Twenty-five (large kit)
Not intended for use by small children
Notes on this video
Matches are no longer included in the Flying Wish Paper kits in order to allow for international and expedited shipping.
Love our videos? Please subscribe to our YouTube channel:
Write it, light it, and watch it fly!
Forget about throwing pennies into a fountain. There's a much better way to make your wishes come true: Flying Wish Paper.
Each Flying Wish Paper kit includes everything you need to ensure that your wish for Primetime Glick to return to the airwaves is granted. You simply write your wish on a piece of wish paper, roll it into a tube, set it on the wish platform, light it with a match, and watch it fly!

Magically, the wish paper jets into the air after burning.

Step 1: Record your wish on the wish paper
Whatever your wish may be, simply write it on the included wish paper. Each kit even includes a pencil for jotting down your wish. For example, you may write: "Clear 850 lines the next time I play Tetris". It's really up to you.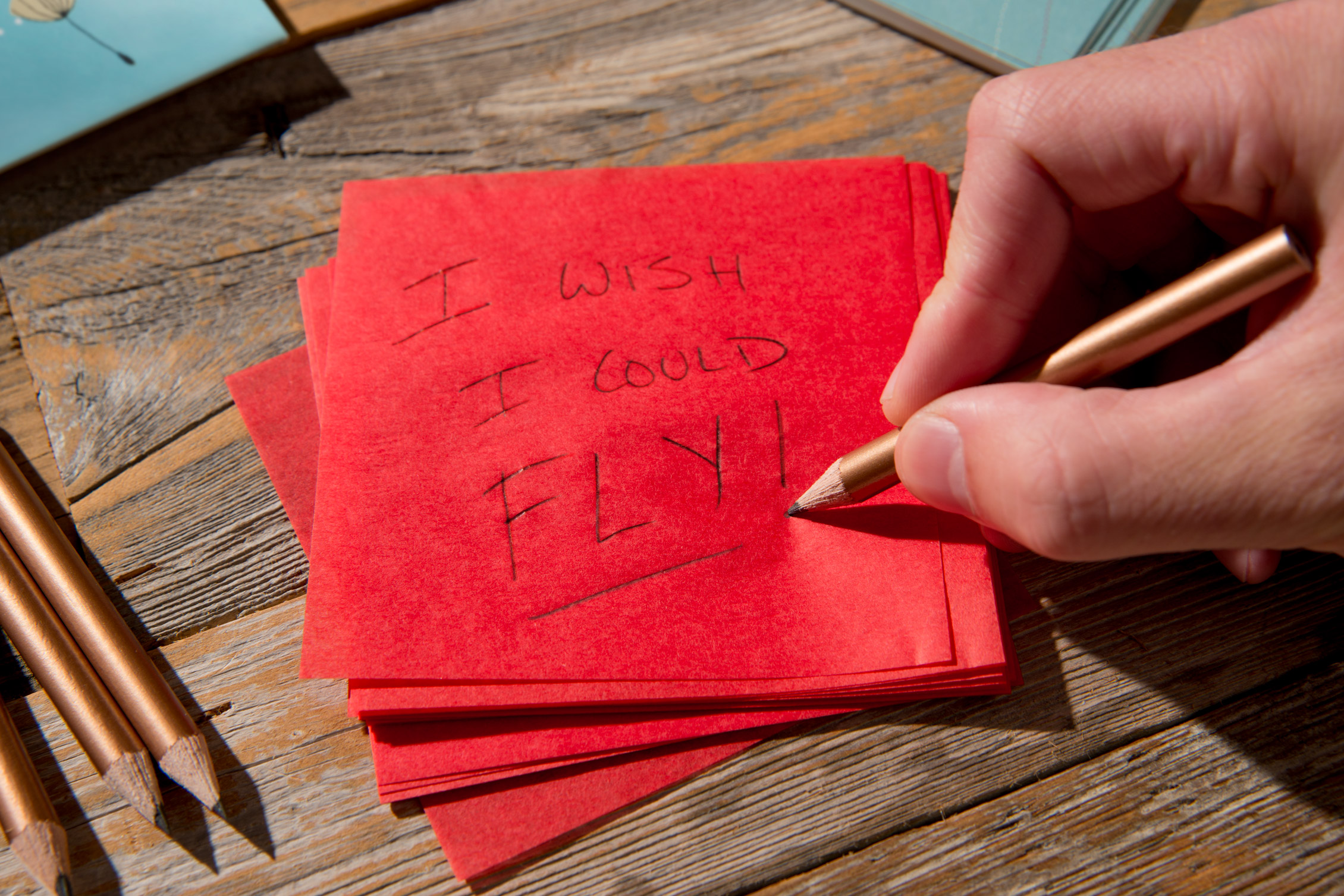 Begin by writing your most precious wish onto a piece of wish paper.

Step 2: Light the wish paper on fire
If you don't light your wish on fire, the chances of it coming true are about zero. So, strike a match and light the wish paper. But wait! Make sure you roll the wish paper into a tube and set it on one of the included wish platforms first.
These steps are necessary to ensure that your wish paper achieves liftoff.

Next, roll the wish paper into a tube and use a match to light it on fire.

Step 3: Watch it fly!
The wish paper will burn from top to bottom in about 5 seconds. As soon as the flame reaches the bottom of the wish paper, the paper will suddenly take flight.

Just as the wish paper is nearly burnt up, it will fly into the air.

Catch what's left of your wish paper on the wish platform
The earthly remains of your wish will float slowly back down after the wish paper has burned. We suggest catching it with your wish platform. However, it's completely safe to catch the ash with your hands. The remains are cool to the touch almost immediately after it has burned out.

You may choose to catch the burnt wish paper with the paper platform.
However, this isn't necessary from a safety standpoint. The ash is cool to the touch.

Choose from two kits
Flying Wish Paper kits are available in two sizes: Mini and Large. Here's a breakdown of the differences between the kits:
| Kit | Wish Sheets | Wish Platforms | Pencils |
| --- | --- | --- | --- |
| Mini | 15 | 5 | 1 |
| Large | 50 | 25 | 5 |
Choose between mini and large Flying Wish Paper kits.

Frequently Asked Questions
Question: Is this product dangerous?
Answer: While anything having to do with fire is potentially dangerous, Flying Wish Paper is actually more safe than a traditional candle. Flying Wish Paper only burns for roughly 6-8 seconds. As it heads into the air, it is nearly finished burning and becomes cool to the touch almost immediately thereafter.
However, use common sense and follow the instructions on the packaging to ensure maximum safety.
Question: Can I use Flying Wish Paper indoors?
Answer: Yes. In fact, it is intended to be used indoors. Windy conditions outdoors will most likely knock over your wish paper.
Question: Why are there fewer wish platforms than sheets of wish paper in each kit?
Answer: Each wish platform can be used multiple times.
Question: Seriously, is Flying Wish Paper going to set my drapes on fire?
Answer: No. The paper itself does not have any accelerants or propellants added to it. So, as soon as the paper has completely burned (which occurs in about 6-8 seconds), there is no more "fuel" for the fire.
Question: How do I roll the Flying Wish Paper into a tube?
Answer: Just wrap the paper around your index finger and then set it on the wish platform.
Question: If the wish paper falls over while burning, won't it set the wish platform on fire?
Answer: No. This scenario has been tested over 1,000 times and there has never been an instance where the wish platform came even close to igniting.
Side note: If you've got nimble fingers, you can usually set the wish paper upright again if it has fallen over. Remember to blow out your match away from the wish paper. This is the most common reason for knocked-over tubes.
Question: Will it set off my smoke alarm?
Answer: No. Flying Wish Paper generates very little smoke. Extensive testing has never resulted in a smoke alarm being set off.
Question: Are matches included?
Answer: Matches are not included in order to allow the product to be shipped internationally and via expedited methods. Therefore, you will need to supply your own matches.
Question: Can I use the Flying Wish Paper to wish for more Flying Wish Paper?
Answer: That doesn't work with genies and it certainly won't work with Flying Wish Paper. Sorry.
Can't live without it?
Smash that 'Add to Cart' button!
Burning Questions: You Ask, We Answer
Your questions that have been answered by the Vat19.com staff:
Sort by: Show Only:
Want to ask your own Burning Question?

First, please watch the

video

to the right. It explains the Burning Question feature and answers some common questions.

Now, if there is something that you need to know about this product that we've omitted, please send us an anonymous question and we promise to answer it within 1 business day.