The Magic Butterfly
A flying surprise for your greeting cards and books.
Videos

Wind up butterfly

Five styles of flying butterflies

Watch video for: The Magic Butterfly
Overview
Slip an enchanting surprise into your next birthday card, wedding card, or book and wind up the Magic Butterfly.

This charming accessory is the perfect companion to announcements, celebrations, and gifts. Simply wind up the paper butterfly and place it inside your card or book. When opened, the butterfly zips out and flutters in the air.

The rubber-band-powered wonder may not actually be magically enchanted, but the unexpected delight makes a special occasion even more special.

Note: Because we receive this item in an assortment of colors, we must sell them randomly. You'll receive blue, orange, red, purple, or yellow.
Features & specs
Wind-up flying toy styled like a butterfly
Available in blue, orange, red, purple, and yellow
Reusable
Materials: paper, wire, and rubber band
Handmade in the USA
Approx. dimensions: 4" x 3" (10.16 cm x 7.62 cm)
You may also like:
Love our videos? Please subscribe to our YouTube channel:
A welcome surprise
The Magic Butterfly is a memorable way to add a colorful accent to your next gift. Your recipient will open their card or book with a delightful gasp as they're greeted with a floating friend.
The Magic Butterfly can be used in multiple ways. At your next wedding, coordinate the release of multiple Magic Butterflies to give the bride and groom an exit they'll never forget (and that beats rice being thrown at them). If you're in a mischievous mood, put the surprise toy inside a textbook or other reading material for a whimsical prank.
Take flight
The Magic Butterfly's simple design uses nothing more than a rubber band, paper wings, and a wire frame to create an imaginative display.
Wind the toy by turning the front wings, thereby twisting the rubber band. Place the butterfly in a card or book while holding the wings down and close it. When your recipient opens their gift, the butterfly springs to life and uses the stored tension to flutter in the air.
You won't need a net to capture your colorful creature; find where it landed and wind it back up as many times as you want.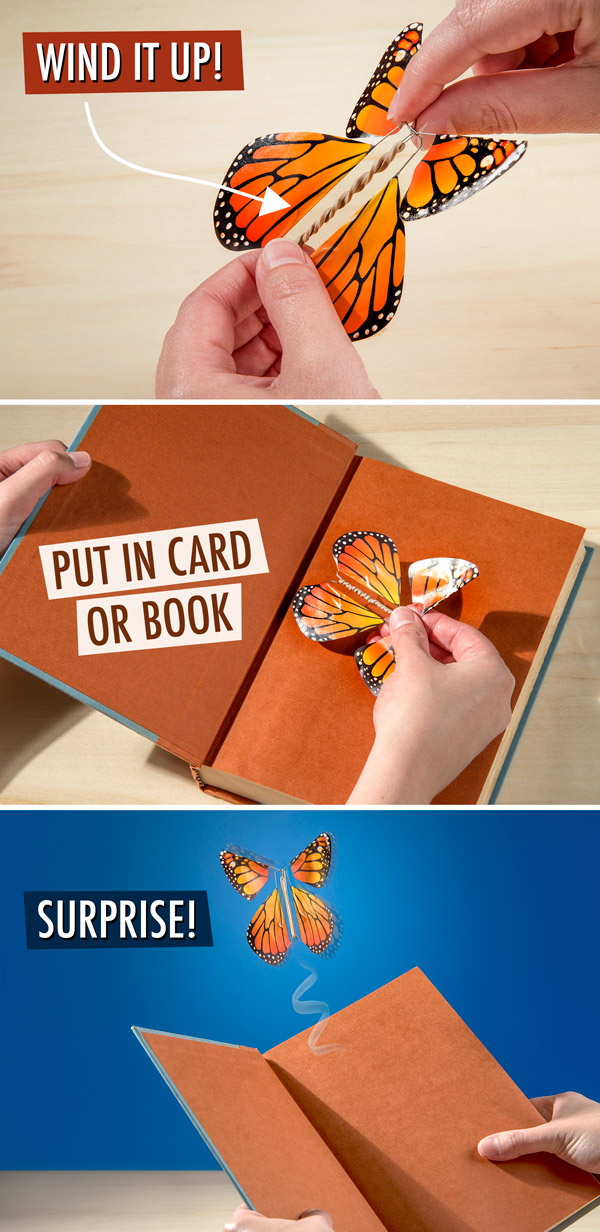 Has anyone ever not been happy to see a butterfly?
Colorful collection
The Magic Butterfly is available in five different styles: blue, orange, red, purple, and yellow. Each one is handmade in the USA with style and charm.
Note: Because we receive this item in an assortment of colors, we must sell them randomly.

Become a bug collector.
Frequently Asked Questions
Question: Is this a one-time use thing?
Answer: Nope! The Magic Butterfly can be rewound and reused as many times as you want.
Question: Will it work in my yearbook/restaurant menu/air conditioner user manual?
Answer: The Magic Butterfly can be tucked into anything that has sufficient weight to keep the wings in place and will be opened at some point. Get creative and find new, fun ways to surprise people!
Burning Questions: You Ask, We Answer
Your questions that have been answered by the Vat19.com staff:
Sort by: Show Only:
Want to ask your own Burning Question?

First, please watch the

video

to the right. It explains the Burning Question feature and answers some common questions.

Now, if there is something that you need to know about this product that we've omitted, please send us an anonymous question and we promise to answer it within 1 business day.
Please excuse the shameless cross promotions!