Giant 1-lb Sugar Daddy
Enormous milk caramel lollipop.
You may also like:
Overview
No matter the size of your sweet tooth, the Giant Sugar Daddy can more than measure up.

This classic milk caramel sucker has been supersized to epic proportions, measuring in at 4.5" wide and 17" long! Because it weighs a thunderous full pound (0.45 kg), the gargantuan lollipop is supported with a sturdy wooden stick.

Boasting 1,928 Calories, the Giant 1-lb Sugar Daddy can sustain a grown human for a day, but we recommend you share or spread the sweet treat out over a longer period of time.
Features & specs
Giant 1 lb Sugar Daddy (453 g)
Wooden support stick
1,928 Calories
Approx. dimensions: 4.5" x 0.75" x 17" (11.43 cm x 1.91 cm x 43.18 cm)
Made in the USA
The daddy of all confections
Sugar Daddy has been pleasing palates with the sweet taste of milk caramel since 1925. And now you can finally sink your teeth into a full sixteen ounces of the sticky snack!
This prodigious pop tastes just like the sweet sucker you know and love because it's made of the same good ol' stuff your great-granddaddy bought for a penny down at the Piggly Wiggly.

Yum!
Colossal caramel candy
Got a sweet tooth? We know your struggle. Impress your friends (and yourself) with a supersized Sugar Daddy sucker. Gnaw your way through a full pound of milk caramel mounted on a wooden stick.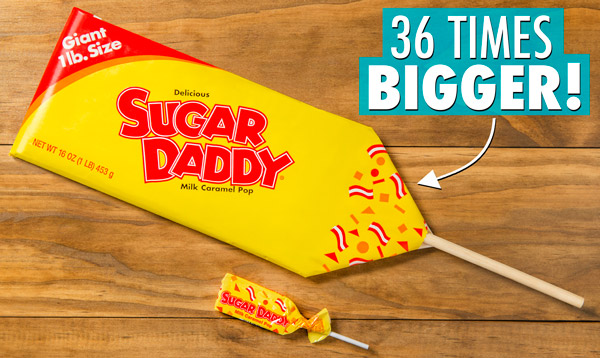 That's a load-bearing beam.
Sweet sassy molassy
The ingredients of the Giant 1-lb Sugar Daddy: corn syrup, sugar, partially hydrogenated soybean oil, dry whole milk, whey, natural and artificial flavors, salt, and soy lecithin.
Every single American-made Giant Sugar Daddy measures over a foot long with a day's worth of Calories.
Question: Does it taste like a regular Sugar Daddy?
Answer: It tastes exactly like a Sugar Daddy because it is a Sugar Daddy.
Question: Is it good for hitting things or for self-defense?
Answer: Wielding a one pound lollipop might be substantial enough to knock one out of the park or ward off a would-be mugger, but the Giant Sugar Daddy it's better for eatin' than beatin'.
Question: What are the nutrition facts?
Answer: Each bar contains 12 servings. Per serving, there are 160 Calories, 2g fat, 55mg sodium, 34g carb., 23g sugar, and 1g of protein.
Where can I buy this awesomeness?
Burning Questions: You Ask, We Answer
Your questions that have been answered by the Vat19.com staff:
Sort by: Show Only:
Want to ask your own Burning Question?

First, please watch the

video

to the right. It explains the Burning Question feature and answers some common questions.

Now, if there is something that you need to know about this product that we've omitted, please send us an anonymous question and we promise to answer it within 1 business day.