ingenuiTEA Loose Leaf Tea Teapot (16 oz)
Easily brew and dispense tea from this unique teapot.
You may also like:

Overview
The ingenuiTEA Teapot is loose leaf tea made easy. Here's how it works: Simply add your favorite tea leaves to the pot, pour in up to 16 ounces of hot water, and steep to taste. Then place the teapot on top of any cup to open a valve and let the tea flow down.

The metal mesh filter inside the ingenuiTEA delivers crystal clear tea and ensures that all of the tea leaves stay behind for easy cleanup. Rinse it out in the sink or place the BPA-free plastic ingenuiTEA into the dishwasher.

Complete the gift with one of our 4-oz tea tins: Citrus Green, Fruit Sangria, or Irish Breakfast. Please note that the ingenuiTEA will work with any loose leaf tea.
Features & specs
Dimensions (Teapot): 6" x 4" diameter
Capacity: 16 ounces (473 mL)
Dishwasher safe
Metal mesh filter never needs to be replaced
BPA-free plastic
Dimensions (Tea tins): 3.5" x 4.5" diameter
Tea tins include 4 oz of tea which make 50 cups
Note: Glass mug pictured is not included
Love our videos? Please subscribe to our YouTube channel:
Brew your own loose leaf tea quickly, easily
The ingenuiTEA takes all the hassle out of brewing loose leaf tea. In fact, it makes it fun!
There's just something satisfying about setting the ingenuiTEA on top of a glass or mug and watching the tea filter down through the teapot and into your cup.

Brew your own loose leaf tea with the ingenuiTEA 16-oz teapot.

Step 1: Add some loose leaf tea to the ingenuiTEA
To get started, scoop a teaspoon or two of your favorite tea into the ingenuiTEA. Any type of loose leaf tea will work.

To begin, place any loose leaf tea of your choosing into the ingenuiTEA.

Step 2: Add hot water, steep to taste
Pour as much hot water as desired (up to 16 oz) into the ingenuiTEA and allow your tea to steep to taste.

Add hot water and steep to taste.

Step 3: Place on top of any cup or mug
To filter the tea, place the ingenuiTEA on top of any cup or mug. Doing so opens the valve and lets your brewed tea flow down and into your cup. Brilliant.
Please note that the glass mug pictured is not included.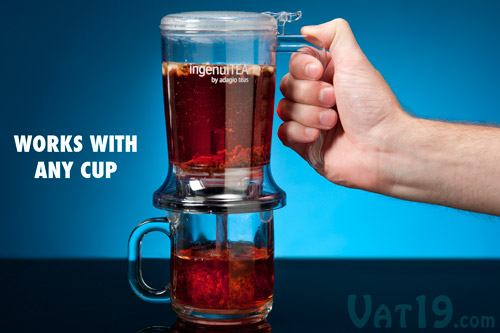 Simply place the ingenuiTEA on top of any cup to filter and dispense the tea.

Won't leak when not in use
As soon as you remove the ingenuiTEA from the cup, the valve automatically closes. The ingenuiTEA will not leak any tea onto your countertop.

The ingenuiTEA's valve automatically closes when removed from the cup.

Metal mesh filter ensures crystal clear tea
A metal mesh filter at the bottom of the ingenuiTEA ensures crystal clear tea goes into your cup and tea leaves stay behind in the teapot.

The metal mesh filter ensures optimal filtering of your tea.

Easy to clean in the sink
Cleaning the ingenuiTEA is quick and painless. Simply rinse it out in the sink.

To clean, simply rinse out the ingenuiTEA in the sink.

Dishwasher safe, BPA-free
For a deep clean, you can toss the ingenuiTEA into your dishwasher. The plastic is BPA-free.

The BPA-free plastic ingenuiTEA is dishwasher safe.

Complete the gift with some tea!
The ingenuiTEA works with any loose leaf tea.
However, we've made the tea tins below available because a) they're especially delicious and b) it makes it a bit more convenient to complete your loose leaf tea experience.
Each 4-ounce tea tin will make approximately 50 cups of tea.
Irish Breakfast: Black tea blend (unflavored)
Citrus Green: Green tea with lemon and orange flavors, citrus peel, and flower petals.
Fruit Sangria: Herbal tea with dried fruits and herbs.

Give the gift of delicious tea by adding a 4-ounce tea tin to your ingenuiTEA order.

Can't live without it?
Smash that 'Add to Cart' button!
Burning Questions: You Ask, We Answer
Your questions that have been answered by the Vat19.com staff:
Sort by: Show Only:
Want to ask your own Burning Question?

First, please watch the

video

to the right. It explains the Burning Question feature and answers some common questions.

Now, if there is something that you need to know about this product that we've omitted, please send us an anonymous question and we promise to answer it within 1 business day.