Java Jr. Mini Creamer Decanter
Coffee creamer carafe styled after diner coffee pots.
$13.99
This item has been discontinued.
Overview
Make your mornings a tad bit brighter with the Java Jr. Mini Coffee Creamer Decanter.

A miniature version of the coffee pot you'd find in a diner, the nostalgic Java Jr. is designed to hold and pour your coffee creamer.

Made from glass and durable plastic, Java Jr. will last for years and is dishwasher safe.
Features & specs
Dimensions: 4" x 3" diameter
Plastic and glass construction
Dishwasher safe
Capacity: 8 ounces (236 mL)
You may also like:
A bit more cream for your coffee, hun?
The Java Jr. is genius in its simplicity. It won't update your Facebook status if you double-blink at it, but it will pour creamer into your coffee and look darned awesome while doing it.
Sometimes, a fun design is all it takes to get us going (hey, we're simple people at Vat19). C'mon, it looks like a miniature coffee decanter you'd find at a diner! It's awesome!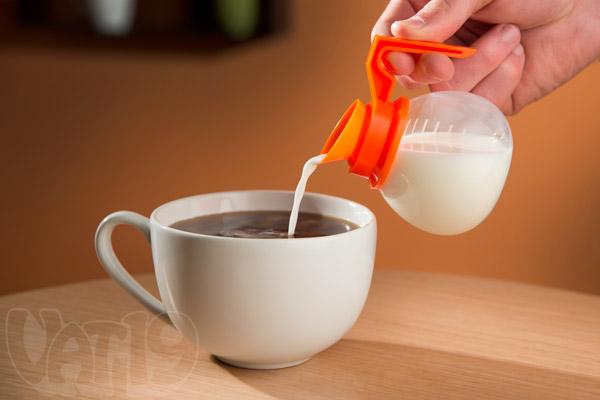 You'll enjoy your coffee just a tad bit more with the Java Jr. Mini Coffee Creamer Decanter.

Shrink it down = explosion of cute
Miniaturization has a 99.99% effectiveness rate in terms of delivering superior cuteness. Exhibits A through C: mini giraffes, mini shopping carts, and mini tape guns.
And now, of course, there is the Java Jr. Mini Coffee Creamer Decanter! It looks exactly like a standard issue coffee pot from a diner. Mmm, grill me up some grits!

The Java Jr. is styled after the classic coffee decanter found in many diners and restaurants.

Simple to clean
Toss your super-cute creamer carafe into the dishwasher when it's time to clean. Vat19's always got your back when it comes to cleaning.

Cleanup's a breeze — just toss the Java Jr. into the dishwasher.
This product has been discontinued. Frown face!
Sorry, but this item is no longer available for purchase.
Burning Questions: You Ask, We Answer
Your questions that have been answered by the Vat19.com staff:
Sort by: Show Only:
Want to ask your own Burning Question?
Unfortunately, this product is not currently available for purchase. Therefore, we cannot accept any new burning questions. Sorry!
Please excuse the shameless cross promotions!