KinderGlo Portable Night Lights
Portable, rechargeable, color-cycling night lights.
You may also like:

Overview
KinderGlo Night Lights are adorable, portable LED night lights that kids will love. Simple enough for kids to operate and safe for them to hold and cuddle, each rechargeable KinderGlo features cool-to-the-touch multi-color LEDs.

Switch between the soft glow of red, blue, and green as well as color cycling mode by simply pressing the button on the bottom of the KinderGlo. Press and hold this same button to toggle between constant-on and a 30-minute auto shut-off.

Available in four characters: an easy-to-handle Quarter Moon, an Owl, a T-Rex, and a Brontosaurus.
Features & specs
Dimensions (Moon): 5.5" x 5.5" x 2.75"
Dimensions (Owl): 4.75" x 3.75" x 3.5"
Dimensions (T-Rex): 5" x 3.5" x 5"
Dimensions (Brontosaurus): 5.25" x 4" x 3.875"
Includes charging station (compatible with all KinderGlo characters)
Timer: 30 minute auto shut-off or continuous on
Color modes: continuous cycling or choose red, blue, or green
BPA & lead free
6' charging cable
Notes on this video
The KinderGlo Owl has undergone a slight design change since this video was created. It is currently about 1.25" taller, 1" wider, and 0.5" deeper. Its shape and design are the same. It has basically been scaled up a bit in all dimensions.
Love our videos? Please subscribe to our YouTube channel:
Adorable, portable nighttime characters
Each soft plastic KinderGlo is the perfect night light for kids. They're cute, fun, and perfectly safe to remain on all night. There's even one shaped like a T-Rex. And that's awesome.
Between four and six inches tall, each KinderGlo emits a soft, soothing light, and is portable in case your child needs to head to the bathroom in the middle of the night.

KinderGlo characters are fun, safe, and portable night lights.
Convenient recharging base ensures they're always ready
To recharge the KinderGlo Night Light, simply set it on the included recharging base station. There are no batteries to change or cords to plug in on the characters. Of course, the base station must be plugged into a wall outlet.
Keep the base station on a night stand and your kids will always have their night light handy.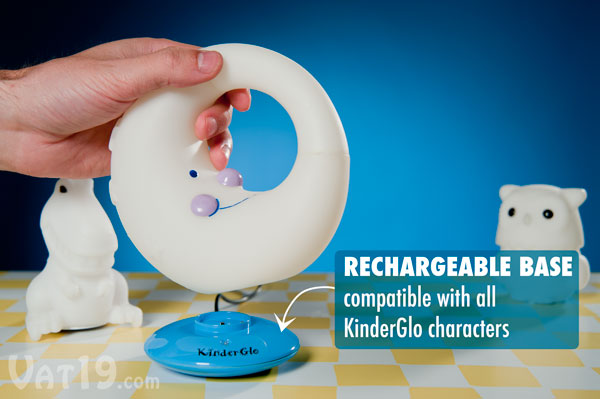 Store the KinderGlo on the included recharging base station and it'll always be handy.
Choose between a single color or color cycling
Each KinderGlo Night Light features three LEDs. By pressing the button on the bottom, you can switch between the following constant colors: blue, red, and green.
Use the same button to select color cycling mode where the KinderGlo slowly fades between the full spectrum of colors.

The KinderGlo can be set to blue, red, green or continuous color cycling.
With only one button, the KinderGlo is so simple to use
The bottom of the KinderGlo features just one button. Pressing it cycles the unit between "on", constant blue, constant red, constant green, color cycling, and "off".
By default, the KinderGlo will auto shut-off after 30 minutes. Press and hold the button for three seconds to keep the KinderGlo on continuously.

Operation of the KinderGlo is managed via a single button on the bottom of the unit.
Perfectly safe to leave on all night; BPA-free and lead-free
The LED lights inside the KinderGlo will never got hot. So, each character is perfectly safe to leave on all night. In fact, your kids can sleep with their KinderGlo because of its soft, BPA-free plastic.
Please note that the small amount of paint used for accent features is lead-free.

The BPA and lead-free KinderGlo features cool-to-the-touch LEDs. It's super kid friendly!
Choose from a variety of KinderGlo characters
The KinderGlo Night Light is available in four characters: Quarter Moon (perfect for carrying), Owl, Brontosaurus, and the unbelievably cool T-Rex.

The KinderGlo Night Light is available in four adorable styles.
This product has been discontinued. Frown face!
Sorry, but this item is no longer available for purchase.
Burning Questions: You Ask, We Answer
Your questions that have been answered by the Vat19.com staff:
Sort by: Show Only:
Want to ask your own Burning Question?
Unfortunately, this product is not currently available for purchase. Therefore, we cannot accept any new burning questions. Sorry!