Lift It! Deluxe
Stack the pieces using a crane strapped to your head!

Videos

Watch video for: Lift It! Deluxe
$19.99
This item has been discontinued.
Overview
Lift It! Deluxe is a clever construction game that will build up the silliness at your next family game night.

When it's your turn, use a small crane to attempt to stack colored building blocks in a formation depicted on your card.

Maneuvering the blocks before time runs out can be tricky—especially when you have the crane strapped to your head! The "Head Spaces" use the included velcro strap and your noggin' to add another level of silliness and difficulty to this interactive board game.

Play individually or on teams, where you and a partner work together to control the same hook.
Features & specs
Arrange building blocks using crane-like hook
1-8 Players
Approx. play time: 30+ minutes
Ages 8+
Includes: 1 game board, 78 building cards, 4 duel cards, 4 cranes, 4 hooks, 4 strings, 4 velcro headbands, 14 building blocks, 4 pawns, 1 timer, instructions
Free timer app available to download for iOS and Android
You may also like:
Love our videos? Please subscribe to our YouTube channel:
Get hooked
Lift It! is a unique, interactive game that tests your coordination and patience with a sense of humor.
Draw a card every turn to reveal a new structure to build. Carefully use your crane to snag the seven colored building blocks by their Swiss cheese-like holes and move them about.
Completing the easier structures is pretty manageable, but the more complex buildings can be a challenge… especially when you can't stop laughing.
The clock is ticking
Like all construction projects, you need to finish on time! Each building card contains a time limit that varies based on the complexity of the structure. Race to finish before the timer runs out, but don't be too hurried. A slight misplacement can topple the whole structure!
With no dice or spinner, you can only move ahead in the game when you successfully build what's on the card. Move one space for every block you put in its correct place and an extra four points for finishing the whole formation. The only way to move forward is to build up!

You don't have time to make it perfect.
Put your heads together
You can enjoy the silliness of Lift It! with just yourself or with seven other people in various combinations of solo and team play. When playing with teams, the crane is controlled by both players simultaneously for a true test of teamwork.
As an added challenge, some spaces on the board dictate that you must build with the crane attached to your head via the included velcro headband—no hands allowed! In case you're wondering, it's impossible to take yourself seriously while wearing a forehead crane (which is a good thing).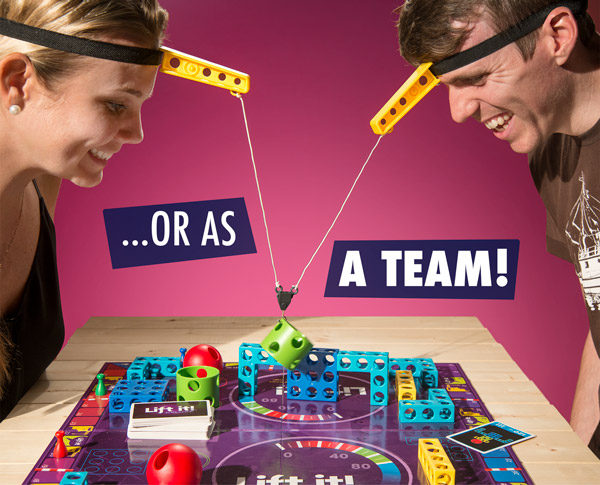 A true team-building building exercise.
Constructing fun
The game includes a game board, 78 building cards, four cranes, two sets of seven building blocks (fourteen total), four velcro straps, four game tokens, and a sand timer.
Bring Lift It! to your next game night and watch the fun build up!

No hard hat needed.
Frequently Asked Questions
Question: How does the team building work with cranes?
Answer: The yellow handle of the crane has a string with a small plastic hook, which attaches to the base of a larger metal hook that's used to manipulate the blocks. The base of the metal hook has space for two plastic hooks so that both you and a partner can control it at once.
Question: What's the difficulty level of this game?
Answer: Lift It! is recommended for ages 8 and up. The difficulty level is partly up to you, as you decide beforehand how precisely the buildings need to mirror the images on the cards.
This product has been discontinued. Frown face!
Sorry, but this item is no longer available for purchase.
Burning Questions: You Ask, We Answer
Your questions that have been answered by the Vat19.com staff:
Sort by: Show Only:
Want to ask your own Burning Question?
Unfortunately, this product is not currently available for purchase. Therefore, we cannot accept any new burning questions. Sorry!
Please excuse the shameless cross promotions!