LittleBits Synth Kit
DIY circuit-building kit for musicians and tinkerers.
You may also like:
Overview
You can remix music, so why not remix your instrument?

LittleBits Synth Kit is a modular analog synthesizer that you can build yourself! Components like an oscillator, sequencer, delay, and others easily come together in a snap, thanks to the ingenious magnetic component design. You won't need solder or an engineering degree to add, remove, and swap elements in this electronic arrangement machine.

Create sounds and literally learn the ins and outs of how synthesizers work as you plug in and adjust the infinitely modular Bits. Play with your synthesizer and then play your synthesizer (get it?) with the LittleBits Synth Kit.
Features & specs
Make your own synthesizer
Interchangeable electronic building blocks
Attach magnetically for rapid building and swappability
Includes: 12 electronic building blocks and instructions to make 10 projects
More ideas are available online
Can be combined with other LittleBits circuit kits
Recommended age: 8+
Love our videos? Please subscribe to our YouTube channel:
Synthesize a synthesizer
Music is a science as much as it's an art. The LittleBits Synth Kit gets to the heart of creative exploration by empowering you to experiment with musical tools to create incredible sounds—all while discovering how different elements of an analog synth work.

Make a music-maker.
Half maestro, half mad scientist
Creativity is about making something new. With LittleBits Synth Kit, not only can you make new music, you can make new musical instruments! With twelve different modules, you can add, remove, and rearrange the pieces to make your own creation.

Tune your tone generator.
Remix your console
Luckily, you don't have to be a trained electrical engineer to explore the inner workings of a synthesizer.
LittleBits Synth Kit is designed with a spirit of experimentation that enables everyone to make their own synth. Each module snaps onto the next module using a pair of neodymium magnets (no soldering required).
The magnets' polarity ensures that you connect the modules the right way every time to complete the circuit. They're strong enough to stay together, but you can still pull them apart again to add more modules or repurpose them for a new sound.

Making music is a snap.
Cut a record
LittleBits includes a small speaker module that operates beautifully with the other bits to try out new sounds.
The speaker module also includes a 3.5mm (1/8") line out, so you can silently blast bangers into your headphones, pump up the jam into a bigger sound system, or send the signal to a computer to drop your new single for the world to hear.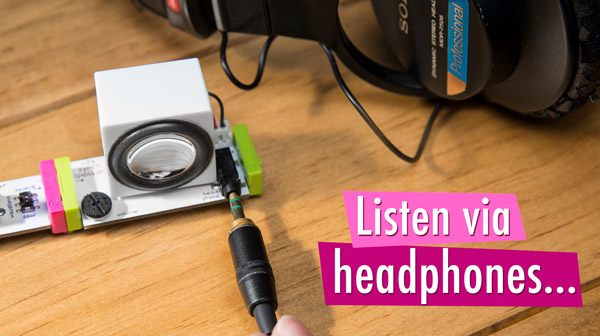 Share your sound.
Instrument instructions
The Synth Kit includes a 34-page booklet to guide you as you make your synthesizer. The full-colored instruction manual includes information on fundamental musical principles, descriptions of each module, and instructions for 10 different projects.

Take music lessons.
The whole kit and caboodle
LittleBits Synth Kit includes 12 electronic building blocks and instructions to make 10 projects. The included building bits are power, micro sequencer, keyboard, envelope, oscillator x2, delay, random, filter, mix, splitter, and speaker. These bits can be combined with bits from other LittleBits kits to expand your creativity even further.

It includes several synth segments.
Frequently Asked Questions
Question: Do you have to be a good musician to use it?
Answer: While a synth virtuoso could probably make amazing music out of the box, it's not a requirement. In fact, a lot of the fun is playing with the different modules to understand exactly how their adjustment affects their sound. Everyone starts somewhere, so don't let a lack of experience keep you from exploring the joy of music.
Question: What exactly can you do with it?
Answer: LittleBits Synth Kit is an analog synthesizer. Since it is modular and each module is adjustable, it is capable of creating and manipulating a wide variety of sounds. The included project instructions help you create a tone tuner, a keyboard, a spooky sound generator, a drum sequencer, a metallic sound generator, a synth band, and a monster synth leveraging all of the modules in the package. Of course with additional modules and know-how, you can create your own new chain of bits and create an all-new synthesizer.
Where can I buy this awesomeness?
Burning Questions: You Ask, We Answer
Your questions that have been answered by the Vat19.com staff:
Sort by: Show Only:
Want to ask your own Burning Question?
This product is no longer available for purchase directly from Vat19. Therefore, we are no longer accepting new burning questions at this time. Sorry!