Loloz Cavity Fighting Lollipops (20-pack)
Anti-cavity candy on a stick.
Cavity-fighting lollipops!

Sugar-free candy prevents tooth decay! Seriously!

20 all-natural suckers with delicious berry flavor per box
Overview
Most candies contain sugar that cavity-causing bacteria thrive on, but Loloz are a sweet sucker that suckerpunches those germs in the mouth. The result is healthy teeth and a sweet treat that'll make you smile.

Loloz are a delicious, natural way to keep your teeth and gums healthy. Fortify your dental hygiene simply by enjoying two pieces per day for a ten day regimen. The lollipops are proven to support dental health and avoid tooth decay. Sweet!
Features & specs
Cavity-preventing hard candy!
20 suckers per package
Take two per day for 10 days to guard against tooth decay
Delicious berry flavor
Active ingredient: Cavibloc™ (Glycyrrhiza uralensis [Chinese licorice] extract)
You may also like:
Sweet smiles
When you think of protecting your teeth and gums from decay, you might think to lay off the candy. But Loloz is a candy that actually improves the health of your chompers!
Each cavity-fighting lollipop is made with a patented sweetener called Cavibloc™. The extract, derived from Chinese licorice, tastes sweet and guards against the bacteria that cause trouble on your teeth. Maybe a steady regimen of candy is just what you need for good dental health.

Sweet!
Cavity-fighting Candy
Loloz suckers are more than just not bad for your teeth; they could actually improve your dental health!
Instead of a sugary sweetener, they contain a proprietary licorice root extract called Cavibloc™. The licorice root extract works to hinder bacterial growth that normally causes dental decay. So sucking on Loloz can actually help prevent oral problems from ever occurring.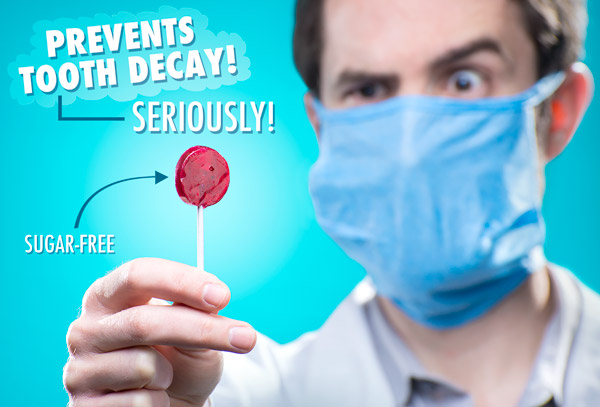 "Say ahh-some!"
Box o' berries
Would you rather: get your teeth drilled into or have 20 suckers? The choice is a no-brainer.
Each package of Loloz contains a full regimen of 20 suckers in a delicious berry flavor. The suckers are meant to be used twice per day for ten days in order to optimize your oral health.

That's something to smile about.
Frequently Asked Questions
Question: Does this replace brushing teeth?
Answer: No, Loloz suckers are meant to be an addition to a healthy cleaning regimen of brushing and flossing and a good alternative to sugary candy.
Question: Is the sweetener xylitol?
Answer: Nope. Loloz Cavity Fighting Lollipops contain Isomalt Syrup, Natural Flavor, Citric Acid, Grape Juice Extract, Cavibloc™ (Licorice Extract) and Stevia.
Where can I buy this awesomeness?
Burning Questions: You Ask, We Answer
Your questions that have been answered by the Vat19.com staff:
Sort by: Show Only:
Want to ask your own Burning Question?
This product is no longer available for purchase directly from Vat19. Therefore, we are no longer accepting new burning questions at this time. Sorry!
Please excuse the shameless cross promotions!