Meat Socks by Sock It To Me
Burgers and bacon on your feet!
You may also like:

Overview
Dip your toes into something savory with Meat Socks — crew-style socks featuring America's true favorite pastime… meat!

Choose between 100% ground beef, lettuce, tomato, onion, and cheese on a sesame seed bun or bacon to cover your little piggies.

Both pairs of socks fit men's feet sizes seven to thirteen. Made in the USA.
Features & specs
Bacon or burger crew-style socks
Material: 59% cotton, 39% polyester, 2% spandex
Fits men's size 7-13 feet
Made in the USA
Meat your new favorite pair of socks
Make a mouthwatering statement with socks that depict two of the most savory foods on the menu. Meat Socks turn casual dining into casual footwear. Prepare for a board meeting with burgers on your calves, or order take out with bacon adorning your toes—either way, your footwear will scream, "Eat me!".
Might we suggest getting both pairs for the ultimate meat combo? What says, "I have good taste in clothes", more than a burger and bacon recipe?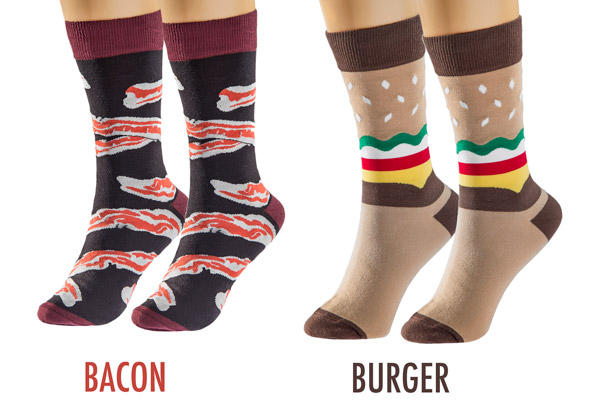 WARNING: Feet may look delicious. Refrain from eating yourself or others.
Question: I'm a woman. Can I wear them?
Answer: Absolutely! The socks come in men's sizes, but these look great on ladies and gentlemen.
Question: Would these be good to wear on a first date?
Answer: If you want to have a second date…then yes!
Where can I buy this awesomeness?
Burning Questions: You Ask, We Answer
Your questions that have been answered by the Vat19.com staff:
Sort by: Show Only:
Want to ask your own Burning Question?
This product is no longer available for purchase directly from Vat19. Therefore, we are no longer accepting new burning questions at this time. Sorry!