The Ostrich Napping Pillow
Take a power nap anywhere, anytime!
Videos

Watch video for: Ostrich Pillow
Overview
With a durable covering that encompasses the entire head and neck, the Ostrich Pillow makes it possible to nap anywhere!

Catch a quick nap against a bus window, the metal rails of a subway seat, the bark of a tree, on the desk at work, or even the back of a park bench.

Designed by seasoned siesta-takers in Spain, the Ostrich Pillow features a polystyrene filling that provides cocoon-like comfort no matter where you need to nap. The pillow's super-soft cloth covering is highly absorbent, comfortable, and amazingly breathable.
Features & specs
100% viscose (rayon) cloth
Polystyrene ball filling
Like a bean bag for your dome
You may also like:
Love our videos? Please subscribe to our YouTube channel:
Pro-style napping requires professional gear
Power naps are an amazing way to quickly revitalize. However, finding a comfortable and quiet napping spot at work, on the train, or in the airport that won't chisel a permanent crick in your neck can be harder than the surface you're resting on.
Well, consider the problem solved. With the Ostrich Pillow, you can take a blissful power nap just about anywhere!

The Ostrich Pillow is designed for power napping anywhere.
Create your oasis of calm anywhere
The Ostrich Pillow is designed for power naps anytime the mood strikes you. Its soft, yet firm filling creates a comfortable cocoon anywhere. Feel free to lean your head against metal poles, the back of a wooden bench, or a granite countertop — seriously, anything can be transformed into the perfect napping surface with the Ostrich Pillow.

Block out all distractions with the Ostrich Pillow.
Shuts out the distractions
The designers of the Ostrich Pillow are from Spain (where they pretty much invented the idea of a nap), so it should be no surprise that this pillow is designed with serious napping in mind.
The Ostrich Pillow's exterior (the part that touches your face) is made from 100% viscose cloth which is super soft, utterly smooth, and highly absorbent, but does not insulate body heat. This ensures you remain cool and comfortable while you nap.
The filling for the Ostrich Pillow is popped polystyrene similar to that found in bean bag chairs. This makes the pillow soft and pliable, but becomes rigid when enough force is applied. It basically forms a protective cocoon around your head while you nap.

High-quality materials are coupled with an enlightened design to create the ultimate napping pillow.
It's like a bean bag chair for your cranium
The Ostrich Pillow's filling allows it to conform to the shape of your head as well as whatever your head is resting against. Being sufficiently thick ensures there's enough cushioning so you always feel like you're sleeping on a cloud!

Turn any location into a napping spot with the Ostrich Pillow.
Seriously, you can nap just about anywhere!
You'll be amazed at where you can nap with the Ostrich Pillow. The polystyrene insides provides amazing comfort on nearly any surface. You can comfortably nap on benches, public transit, the plane, or even against a light post (yeah!) — seriously, anywhere!
No matter where you nap, don't worry about the jealous and quizzical looks from the uninitiated public. When you're sleeping contently, you can't see or hear them anyway!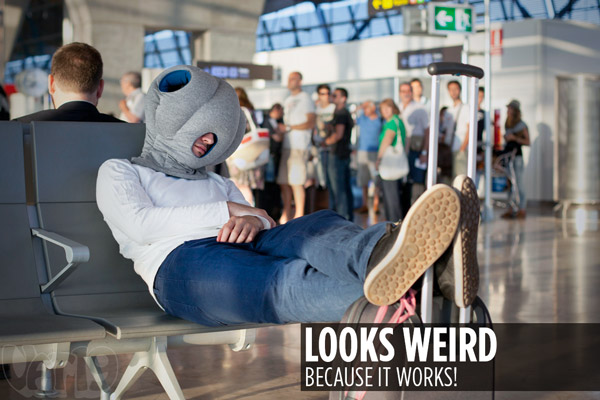 You won't worry about their curious looks because you'll be power napping!
Frequently Asked Questions
Question: What are the holes on the side of the pillow for?
Answer: You can put your arms in there if you'd like.
Question: Can I suffocate in this thing?
Answer: Of course not! There's a large hole in the front where your mouth goes. Also, the filling isn't air-tight, and the outer cloth is very breathable. You're safe!
Question: Should I sleep all night in the Ostrich Pillow?
Answer: We don't recommend it. The Ostrich Pillow is designed for short naps.
Question: I don't power nap. And this looks silly. You guys suck!
Answer: Hmm, yet you've read this far down the page...
First, you're missing out by not learning how to power nap. These short naps (10-15 minutes) restore wakefulness and promote performance and learning (courtesy Wikipedia).
In fact, these short naps (for some memory tasks) are just as effective as a full night's sleep! Some studies even suggest that daily power naps can reduce wear and tear on your heart.
For the truly elite napper, you can combine caffeine with your siesta! Immediately after an intake of caffeine, commence your nap. Because caffeine takes up to half an hour to have an alerting effect, your nap will not be affected by the caffeine. Then, when you wake up, you'll enjoy the benefits of both the nap and the caffeine!
So, now that you know how important a power nap can be, why not gear up with the ultimate power napping pillow? Ah, the power of knowledge!
Question: Seriously, though, it does look pretty strange.
Answer: Oh, sorry, I was too busy taking an über comfortable nap atop this craggy mountaintop to read your misspelling of "awesome".
Burning Questions: You Ask, We Answer
Your questions that have been answered by the Vat19.com staff:
Sort by: Show Only:
Want to ask your own Burning Question?

First, please watch the

video

to the right. It explains the Burning Question feature and answers some common questions.

Now, if there is something that you need to know about this product that we've omitted, please send us an anonymous question and we promise to answer it within 1 business day.
Please excuse the shameless cross promotions!