Rush Hour Shift
The super competitive traffic jam puzzle game.
You may also like:
Overview
Challenge a friend and challenge your mind with Rush Hour Shift. It's a two-player logic puzzle game where you simultaneously try to weave your way through rush hour traffic while blocking your opponent's progress.

Use your moves to shift your own car, the cars on the road, and the road itself to navigate to the other side first.

You'll need to use your wits to plan your route and your patience when the unexpected happens. Weaving through gridlock traffic has never been so fun!
Features & specs
2 player strategy game
Ages 8+
Three-section traffic grid
32 card deck
12 blocking vehicles
Two player cars
Portable carrying bag
Love our videos? Please subscribe to our YouTube channel:
Bumper to Bumper Fun
The Game Board in rush hour shift is modeled after a multi-lane highway with traffic blocking you in every direction.
To win, you've got to get your car from one side of the board to the other before your opponent. You'll each take turns making strategic choices to advance your car, move cars out of your way, and move cars into the way of your opponent.

Can you put your opponent into a jam without getting yourself into one?
Well that's something you don't see every day.
Unlike real traffic, the game grid in Rush Hour Shift can shift, creating a whole new set of challenges out of nowhere.
The board itself is made in three pieces that you or your opponent can slide along two seams to dramatically change the lay of the land. Use it to your advantage to slip obstacles out of your way and into your opponent's. But they have the same power, so if you think you can move one car and zip your way to the other side on your next turn, just wait. Look again; now you're facing a trio of perpendicular big rigs and a whole mess of frustration.

Slide a section of the game board to open a path for yourself or block your opponent.
Obey all traffic signs
Just like in real traffic, your mobility is limited by outside influences. In real life, it might be a speed limit, a one-way street, a car accident, or that jerk who's cutting everybody off.
In Rush Hour Shift, each player holds four cards in their hand and plays one at the beginning of their turn. The cards determine if you're going to move a car a determined number of spaces, drive forward until you hit a roadblock, shift the grid, or a combination of these moves.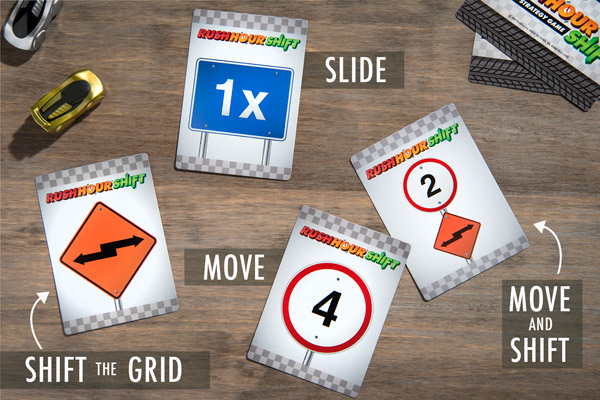 Play the cards you're dealt to drive forward while obstructing the competition.
A complete traffic jam in a box
Rush Hour Shift includes a three-piece game board, two player tokens, a thirty-two card deck, a dozen blocking vehicles, and a mesh storage pouch.

Everything you need to make and break a traffic jam.
Question: Traffic is horrible. How can this be fun?
Answer: If traffic were an intense strategic battle of wits, you might enjoy it more. Trust us, Rush Hour Shift might be themed after an annoying byproduct of road travel, but it's a fierce mental competition full of strategy and fun.
Question: How many people can play?
Answer: Rush Hour Shift is a strategy game designed for two players ages eight and up.
Where can I buy this awesomeness?
Burning Questions: You Ask, We Answer
Your questions that have been answered by the Vat19.com staff:
Sort by: Show Only:
Want to ask your own Burning Question?
This product is no longer available for purchase directly from Vat19. Therefore, we are no longer accepting new burning questions at this time. Sorry!