Santa Beardo Beard Hat Set
Knitted red beanie with detachable white beard.
$39.99
This item has been discontinued.
You may also like:
Overview
Slide on the Santa Beardo Beard Hat and you will undoubtedly be sporting the most amazing winter accessory known to man.

The hand made, 100% acrylic yarn red beanie (with white puff ball!) features a one-size-fits-all white detachable beard. This is Christmas spirit ratcheted up to the power of Castle Grayskull.

The soft, plush, and itch-free Santa Beardo comes with an extra black beard for post-Christmas events.
Features & specs
Material: 100% acrylic yarn (super soft!)
Comes with two beards (white and black)
One size fits all (5.5" beard adjustment range)
Detachable beards are easily stored inside the hat
Never itchy or scratchy
Hand knit pattern
Hand wash only
This is the single greatest advancement in beard hat technology, period.
Not only does Santa Beardo keep you warm, but she also keeps you looking like the most suave incarnation of Santa we've ever set eyes upon.
We really don't think we need to sell you on this one. Instead, we'll just say, "You're welcome." And here's the "Add to Cart" link.

Be festive, warm, and shockingly good-looking with the Santa Beardo Beard Hat.

Looking for the Original Beardo?
These chic beard hats are available in a wide variety of colors.
Buy one now for year-round beard awesomeness.
Christmastime or anytime!
What's awesome about the Santa Beardo Beard Hat is that it comes with TWO (yes, two!) detachable beards.
Each set comes with both a white and a black beard which enables the Santa Beardo to be worn well past December 25th. Because do you really want to be the human equivalent of the neighbors who leave their Christmas lights up until Memorial Day? Yeah, we didn't think so.

Both a white and a black beard are included with each Santa Beardo Beard Hat set.

Now everyone can have a Santa beard!
Santa's lush white beard is the pinnacle of wintertime facial hair. But, not everyone can produce such glorious face plumage. With Santa Beardo, everyone of all ages and genders can rock a yuletide stubble.
The clever usage of velcro strips creates a five-and-a-half-inch beard adjustment range. This means that Santa Beardo's detachable beards can fit nearly any size face.

Santa Beardo's adjustable beards allow nearly anyone to don this amazing Santa look.

Comfortable, itch-free materials
Our Santa Beardo Beard Hats are hand made from 100% acrylic yarn. This means you can rock the festive Santa look without any of the itch. Or the beer gut.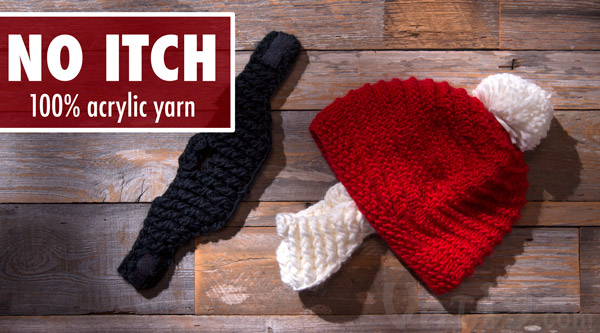 Santa Beardos, just like our Original Beard Hats, are made from 100% itch-free acrylic yarn.

Frequently Asked Questions
Question: Hey, don't you have Beardos in other colors, too?
Answer: Why yes, indeed! You can check out all of the other combinations here.
Question: So, why does Santa Beardo get a page all to itself?
Answer: We thought the addition of the puff ball as well as the extra detachable beard warranted its own page. It also gives us an excuse to take a bunch more photos and make a Santa Beardo video. We figured it's a win-win for everyone!
Question: How do I choose which color of beard to purchase?
Answer: You don't, silly! All Santa Beardos include one white beard and one black beard. It's an awesome bonus!
Question: Do the velcro beard attachments itch your face?
Answer: Absolutely not! All hook-and-loop fasteners have two sides. One has loops and the other, well... hooks. The side with loops is soft and velvety and is also the side that faces your cheek. So, you need not worry about the velcro scratching your face if you decide to don your Santa Beardo sans beard.
Question: Will Santa Beardo fit kids?
Answer: Santa Beardo is designed for all ages, but obviously small children may find it to be too large. Based on past experience with our other Beardos, we would recommend Santa Beardo for ages 12+.
This product has been discontinued. Frown face!
Sorry, but this item is no longer available for purchase.
Burning Questions: You Ask, We Answer
Your questions that have been answered by the Vat19.com staff:
Sort by: Show Only:
Want to ask your own Burning Question?
Unfortunately, this product is not currently available for purchase. Therefore, we cannot accept any new burning questions. Sorry!