Stick'R Frames Removable & Reusable Picture Frames
Removable and reusable decorative picture frame wall decals (set of 8).
Videos

Watch video for: Stick'R Frames Wall Decals

Stick'R Frames Wall Decals — Black
Overview
Stick'R Frames are an inexpensive, fun, and versatile alternative to traditional picture frames. With Stick'R Frames, you can stylishly decorate the walls of your home and office with your favorite pictures in minutes.

The special adhesive on the back of each "frame" allows you to repeatedly remove and reuse each sticker without damaging your photos or surfaces. Feel free to swap out your pictures or move Stick'R Frames to a different wall as often as you'd like.

Includes eight Stick'R Frame Decals in each pack: 4x6 (4), 5x7 (2), 4x4 (1), 8x10 (1). Available in sets of black or multi-colored.
Features & specs
Removable and reusable picture frame wall decals
Includes 8 stickers
4x6 (4), 5x7 (2), 8x10 (1), 4x4 (1)
Made from adhesive vinyl
Special adhesive won't damage photos or walls
Made in the USA
You may also like:
Love our videos? Please subscribe to our YouTube channel:
Stylish, removable and reusable sticker frames
Stick'R Frames are decorative picture frames that won't break the bank -- or damage your walls.
We'll admit that putting a hole or two into your wall to hang a traditional picture frame isn't that big of a deal, but the convenience, flair, and affordability of Stick'R Frames is hard to argue with.
Simply press your photo face down into the back of the Stick'R Frame and then place the sticker on your wall. Bam! That picture is hung. No hammers, no hooks, just simple style in seconds.

Stick'R Frames are decorative and stylish frames that can be placed in seconds.
They cannot, however, prevent you from poor judgement in terms of photo selection.

Stick and move as often as you want
We love Stick'R Frames because they are so easy to move and reuse. The adhesive won't damage your walls, so feel free to swap frames or move from wall to wall as often as your little heart desires.

Stick'R Frames can be reused as often as you like.

Special adhesive is safe for photos and walls
New BFF? No problem. It'll only take a few seconds to swap out photos. Simply peel the frame off the wall, pull off the offending picture and swap in the new one. There won't be any sticky "gunk" left behind on the wall or the photo.

The adhesive on the Stick'R Frame won't damage your photos or surfaces.

Perfect for a variety of décors
Stick'R Frames Wall Decals are great accent pieces in the office, kitchen, or kid's room.

Stick'R Frame Picture Frame Decals compliment nearly any decor.

Decorate your gadgets, too!
Did you catch a giant tarpon using a 26" long gummy worm? You can't keep that story to yourself!
Broadcast it everywhere you go by sticking that glorious photo to the top of your laptop, the back of your iPad, or simply call attention to it on your refrigerator with a decorative Stick'R Frame.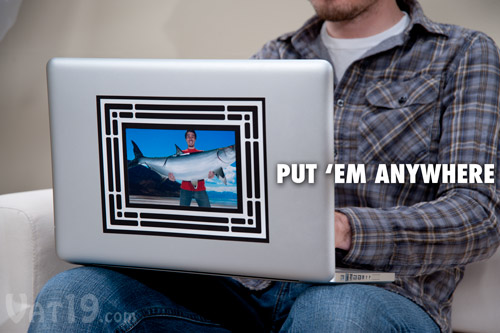 Add a bit of style to your gadgets with Stick'R Frames.

Commemorate a special trip
Several of the Stick'R Frames include small spaces to write a note below the picture. We also like the idea of splitting a photo across two frames, so ... check it out in the image below!

Highlight a memorable vacation with Stick'R Frames.

Each pack includes eight (8) Stick'R Frames
Every package of Stick'R Frame Picture Frame Wall Decals includes one each of the eight frames shown below. You'll get four 4x6's, two 5x7's, one 4x4 and one 8x10. Choose between sets of black and multi-colored frames.

Choose between sets of eight black & white and eight multi-colored frames.

Where can I buy this awesomeness?
Burning Questions: You Ask, We Answer
Your questions that have been answered by the Vat19.com staff:
Sort by: Show Only:
Want to ask your own Burning Question?
This product is no longer available for purchase directly from Vat19. Therefore, we are no longer accepting new burning questions at this time. Sorry!
Please excuse the shameless cross promotions!