Tetris Light
The seven included pieces illuminate on contact.
Videos

Watch video for: Tetris Light
Overview
Bring Tetris into the real world with the geek-chic Tetris Light.

When stacked, the seven included tetriminos emit a warm glow of light. Remove a shape, and it turns off.

Chromed piping on each translucent shape safely conducts low voltage electricity, and ensures that the light will shine even if two pieces barely touch.

A perfect mood lamp at home, the endlessly configurable Tetris Light is also ideal for sparking creativity at the office. Officially licensed.
Features & specs
Includes 7 individual tetrimino pieces
Pieces illuminate when stacked together
Create endless configurations
Dimensions (average setup): 11" x 8" x 1.5"
Officially licensed Tetris product
Power: 120V AC adapter
Bulbs: LED
On/off switch
You may also like:
Love our videos? Please subscribe to our YouTube channel:
It's real-life Tetris! And it's a lamp!
You can officially geek-out for the Tetris Lamp. As far as we're concerned, it's magic.
Simply stack the pieces together and they illuminate. But when they're removed from the tower, they turn off.

As long as the pieces are touching, they will light up.
Arrange the pieces however you wish!
The Tetris Light comes with the seven tetriminos featured in Tetris. As long as they're touching each other, they will light up. So, go nuts! There are endless combinations to create.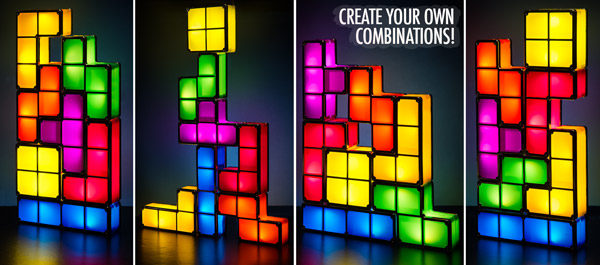 Using the included seven pieces, you can generate an endless variety of configurations.
Seriously awesome mood lamp
The 80s were a magical time for video games. Rekindle your love of clearing lines and nailing a tetris with this officially licensed lamp.

The Tetris Light is an officially licensed Tetris product.
Frequently Asked Questions
Question: How is it powered?
Answer: The Tetris Lamp is powered by a standard 120V ac adapter. We simply hid the cord behind the lamp in our photos.
Question: What kind of bulbs does it use?
Answer: LEDs power the Tetris Lamp and therefore will last a lifetime.
Question: Where does the power cord connect?
Answer: The power cord connection and on/off switch are located on the blue "I" shape.
Where can I buy this awesomeness?
Burning Questions: You Ask, We Answer
Your questions that have been answered by the Vat19.com staff:
Sort by: Show Only:
Want to ask your own Burning Question?
This product is no longer available for purchase directly from Vat19. Therefore, we are no longer accepting new burning questions at this time. Sorry!
Please excuse the shameless cross promotions!