The Golden Goose Egg Scrambler
Scramble eggs without breaking the shell.
You may also like:
Overview
Have you ever enjoyed a scrambled hard-boiled egg? Trust us, you want to.

Take the Golden Goose Egg Scrambler for a spin and serve up a perfectly scrambled egg — without cracking it open! This ingenious device lets you scramble the egg from within its own shell.

To create the flawless "Golden Goose" scramble, place a raw egg in the elastic insert and secure the two sides with the locking ring. Then just wind the nylon cords and pull on the integrated handles to use centrifugal force to scramble the egg.

The locking ring makes sure the egg isn't going anywhere, while the dishwasher-safe inserts cradle the egg and keep it whole while it scrambles. Within seconds, you'll create a beautiful golden egg you can crack open or boil.
Features & specs
Food-safe and dishwasher-safe inserts
Abrasion resistant cords
Locking ring to prevent drops
Ergonomic handles
Made from lightweight recycled materials
Love our videos? Please subscribe to our YouTube channel:
You don't have to crack a few eggs to make this snack!
When you need to crank out real golden eggs (and your magical goose is on the fritz), reach for the Golden Goose Egg Scrambler. It's an ingenious device that allows you to scramble an egg without cracking its shell!
Just throw an egg in the cradle, lock it in place, wind the cords, and pull the handles of the Golden Goose to send that egg-a-spinnin'.

All the King's horses and all the King's men won't need to put these eggs back together again.
Eggs spin round, right round, like a record, baby!
When you pull the handles of the Golden Goose, the cradle spins at extremely high speeds creating a perfect scramble without cracking a single egg. The padded cradle keeps the egg safe inside while it enjoys its own personal Tilt-a-Whirl, so the yolk is not on you.
After about a minute of centrifuge-like action, the egg will be ready to boil and eat.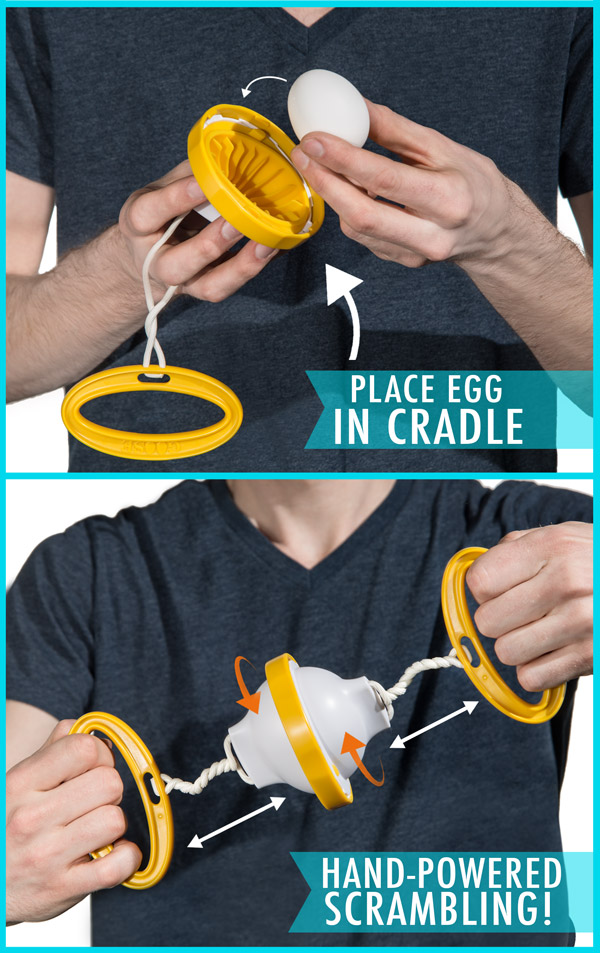 Take your eggs for a spin!
What's good for the goose is great for you
A golden hard boiled egg is hard to beat, but go ahead and experiment with some brand new recipes like a fried golden egg, a golden egg salad, or golden deviled eggs—a real party favorite!
Since scrambling a perfect golden egg is so easy, all you need to do is come up with some new fun creations.

Mmm, golden eggs!
Question: Can't I just shake an egg for a while to scramble it?
Answer: You might eventually get the egg to scramble by shaking it, but by then it will be time for bed. The centrifugal force employed by the Golden Goose ensures that the egg will scramble perfectly in under a minute.
Question: Won't those ropes break from all that pulling?
Answer: While there's a lot of friction and force on the cords, they are ballistic grade, so you can be sure they can take a shelling.
Where can I buy this awesomeness?
Burning Questions: You Ask, We Answer
Your questions that have been answered by the Vat19.com staff:
Sort by: Show Only:
Want to ask your own Burning Question?
This product is no longer available for purchase directly from Vat19. Therefore, we are no longer accepting new burning questions at this time. Sorry!