USB LED Desk Lamp
Flexible USB lamp features fourteen super-bright LED bulbs.
You may also like:

Overview
This mini, flexible USB desk lamp is perfect for late night computing sessions. The fourteen super-bright LED bulbs will never burn out and all you need is a USB port for power.

Unlike some USB gadgets that don't feature on/off buttons, the USB Desk Lamp smartly includes one. We've never understood some of these products that would require you to crawl underneath your desk to turn off your USB powered fondue pot.

This USB desk lamp can also take 3 AA batteries (not included) in case you're away from the computer.
Features & specs
Fourteen LED bulbs that will never burn out
On/Off switch
Approx. 7" flexible neck
Entire unit is approx. 11" tall
Works on any computer with a USB port
Approx. 60" (5 foot) long USB cable
Late night computing was never so much fun!
Simply plug the USB Desk Lamp into any USB port on your computer and enjoy glorious LED illumination. We use it when we're scouring the web for new products.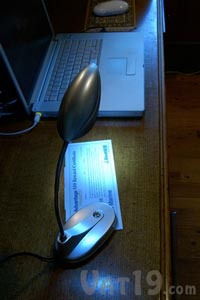 Desktop illumination is only a USB port away!
Try aiming the USB lamp up at your face (it gives you that scary Horror movie look) and see how your co-workers respond. You'll also need to turn off all the lights in your office to make this work. I'm sure the boss won't mind. Tell him that you simply pay extremely close attention to detail, even when goofing off.
Fourteen LED bulbs provide serious illumination

Since LED bulbs never need to be replaced and there are fourteen in this lamp, you're basically ensuring illumination forever.
The USB Desk Lamp features fourteen LED bulbs, which means they'll never burn out. This is a good thing because there's nothing worse than having a desk lamp burn out on you late at night. Now, you have to go down to the kitchen and try to find a new bulb. You finally get one, go back upstairs, and realize that the bulb you grabbed is the wrong size! Won-der-ful.
Optional battery power makes the USB Desk Lamp a great reading lamp, too
Before you freak out and say, "Hey, I thought this was a USB lamp!", please relax. This is a USB Desk Lamp. It simply features optional battery power should you wish to take your lamp to a location where you don't have your computer. This optional source requires 3 AA batteries which are not included. Please note that a packaging misprint indicates that batteries are included, which is not true.

Optional battery power (not included) makes this USB Desk Lamp extremely versatile.
This product has been discontinued. Frown face!
Sorry, but this item is no longer available for purchase.
Burning Questions: You Ask, We Answer
Your questions that have been answered by the Vat19.com staff:
Sort by: Show Only:
Want to ask your own Burning Question?
Unfortunately, this product is not currently available for purchase. Therefore, we cannot accept any new burning questions. Sorry!