Mini Microphone
A tiny, fully-functional microphone for your smart device.
You may also like:
Overview
Become the huge karaoke star you've always wanted to be with the Mini Microphone. Because it's tiny, portable, and compatible with most smartphones, tablets, and computers, your karaoke lounge can be anywhere you want it to be.

Belt out your favorite bangers with buds, or emcee a selfie video to do a little diddy all on your own. If you're not the singing type, the Mini Microphone can be used as your device's internal mic to answer phone calls, conduct tiny interviews, or to send voice recordings to your friends. In any case, when you're rocking this mini mic the whole world is your stage!
Features & specs
A miniature microphone that connects to your smartphone, computer, or tablet
Works with most karaoke and voice recording apps
Microphone dimensions: 2.0" x 1.5" (5.08 cm x 3.81cm)
Package dimensions: 6.26" x 3.62" x 1.06" (15.9 cm x 3.62 cm x 2.7 cm)
Net Wt.: 1.34 oz (37.98 g)
Includes: 3.5 mm headphone jack two way headphone adapter
NOTE: Connects to device through the provided 3.5 mm headphone jack. Devices without a headphone jack input will require a third-party adaptor.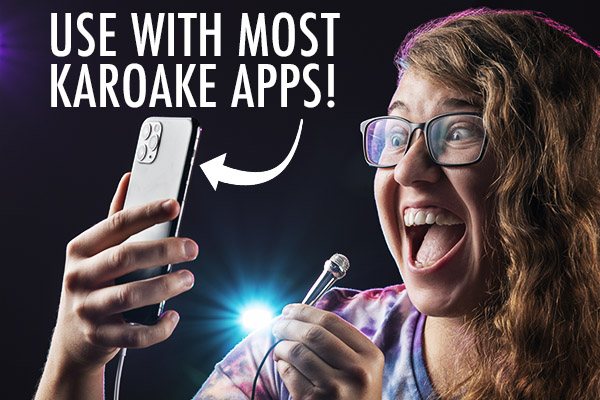 Love our videos? Please subscribe to our YouTube channel:
Sorry! We're sold out until June 20.
Burning Questions: You Ask, We Answer
Your questions that have been answered by the Vat19.com staff:
Sort by: Show Only:
Want to ask your own Burning Question?

First, please watch the

video

to the right. It explains the Burning Question feature and answers some common questions.

Now, if there is something that you need to know about this product that we've omitted, please send us an anonymous question and we promise to answer it within 1 business day.