VSSL Survival Kit + Flashlight
LED utility flashlight and compact survival kit.
You may also like:
Overview
VSSL is a sleek and compact vessel for survival gear. At about the same size and weight as a traditional heavy-duty flashlight, VSSL includes fifteen different tools that help you survive the elements.

The rugged aluminum tube screws onto a super-bright LED flashlight on one end and an oil-filled compass on the other. In between, VSSL holds 7 additional weather-resistant metal canisters that nestle together, each containing a valuable survival tool.

VSSL packs in so much useful stuff that if it weren't so serious, we'd call it a clown car of survival tools.
Features & specs
Compact, weather-resistant anodized aluminum case
Dual mode (static and SOS) LED flashlight (batteries included)
Compass (oil filled); reflective trail markers; four-hour candle; razor blades; six water purification tablets
Wire saw (high tensile, 60 lb. working strength with handle straps); aluminum beadless emergency whistle; waterproof matches; fire starters; fishing gear; signalling mirror
Marine-grade rope (250 lb. breaking strength)
P38 military GI Type can opener
First-aid supplies
Weight: 19 oz. (538.64 g)
Dimensions: 9 3/16" x 2" (240 mm x 50 mm)
Made in Canada
Love our videos? Please subscribe to our YouTube channel:
Flashlight + Compass + Candle + Water Purification + ...
VSSL is a bright, lightweight flashlight that's rugged enough to throw in a pack. But it's also so much more.
By shrinking the size of the flashlight and battery (without compromising its illuminating capabilities), VSSL creates room to add essential tools to keep you alive should you get stranded. Separate tins stored in the hollow VSSL contain kits that keep you hydrated, fed, safe, and able to signal for rescue.

It's a literal life-saver.
Goodbye, wasted space!
A flashlight is useful. A flashlight that can hold an entire survival kit inside is indispensable. VSSL is about the same size as any other ruggedized full-sized flashlight, but by using LEDs and shrinking the battery, it also has room to fit seven water-resistant canisters and a candle inside.

All of these canisters fit inside of this flashlight.
The only survival tool not included is a positive attitude
It's amazing how VSSL can nest the canisters inside itself so efficiently. But it's also amazing how useful the contents of each of the canisters are.
A wax candle and fire starters can offer added illumination, warmth, and psychological comfort, which is one of the most valuable survival tools. A wire saw provides a way to cut wood to create tools and collect firewood. Trail markers help you find your way, while a whistle and a mirror help others find you. And a set of fishing tackle and a can opener help you nourish yourself as you wait for rescue.

Just shy of glamping.
Find Your Way
The resourcefulness of VSSL goes beyond the loaded canisters contained inside. The bottom of the flashlight also includes an oil-filled magnetic compass to help you get your bearings.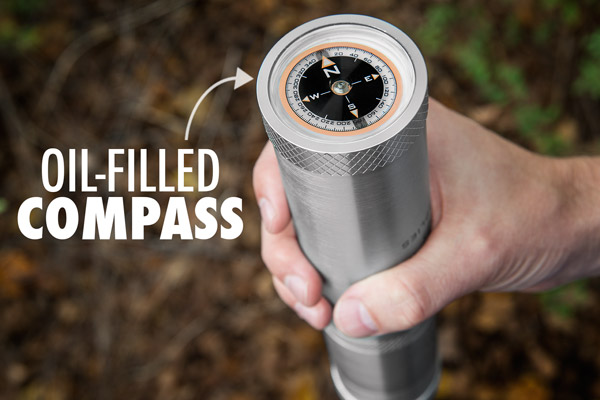 No wasted space, inside or out.
Question: Is it waterproof? Does it float?
Answer: Provided the endcaps are securely screwed closed, VSSL will remain waterproof. A sealed VSSL canister should float with air trapped inside of it.
Question: What else can I fit inside of it?
Answer: VSSL is designed to hold the set of canisters that come with it. Provided you remove the canisters, you should be able to put any solid object that will fit inside to keep it protected from the elements. However, in removing the canisters, you'll be taking out important survival tools.
Where can I buy this awesomeness?
Burning Questions: You Ask, We Answer
Your questions that have been answered by the Vat19.com staff:
Sort by: Show Only:
Want to ask your own Burning Question?
This product is no longer available for purchase directly from Vat19. Therefore, we are no longer accepting new burning questions at this time. Sorry!