World's Largest Gummy Heart
Delicious and realistic-looking human heart candy.
Videos


Realistic gummy heart

Cherry gummy heart

1.2 pounds of gummy!

Watch video for: Giant Gummy Heart

Video: Karen screams at poor Uber Eats driver
Overview
If you've got sugar running through your veins, don't miss a chance to take a bite out of the World's Largest Gummy Heart.

This cardiac candy boasts over 1 pound of delicious cherry-flavored gummy with impressively realistic details. The textured gummy surface has bulging veins and arteries to make a replica so life-like that you'll think it was pulled right from a sugary surgery.

The heftiness of this heart makes it easy to be an organ donor; share the treat with a friend who appreciates the weird and the tasty.
Features & specs
Highly detailed heart-shaped gummy
Flavor: cherry
Approx. weight: 1.2 lbs (544 g)
Approx. dimensions: 5.75" x 4.75" (14.61 cm x 12.07 cm)
Made in the USA
Gluten- and fat-free
Made from pork gelatin (not vegetarian, kosher, or halal)
Yes, eat your heart out!
You may also like:
Love our videos? Please subscribe to our YouTube channel:
Autopsy approved
This is one candy heart that isn't trying to be cute. The World's Largest Gummy Heart is a weird, crazy-awesome, and impressive representation of our circulatory center.
The cherry-flavored replica is about the same size as the human organ with extra heft to make sure you get your fill of gummy. Admire the raised arteries and sloped segments before you take a delicious bite. The realistic-looking treat would be more at home in a medical textbook than a Valentine's Day card.

You'll ❤️ this heart.
Edible organ
Whether you prefer a juicy aorta or you're more of a ventricle person, every bite of the Gummy Heart is a mouthful of tasty cherry gummy. Like our other gummy products, this thing is chewy, fruity, and delicious. So go full Hannibal Lecter on this candy organ and start chowing down.

It takes heart to finish this giant snack.
Gummy is thicker than water
If you bleed gummy, the World's Largest Gummy Heart is the treat for you. This sizable snack is over a solid pound of pure cherry gummy. That's bigger than an actual human heart and more than enough to outsize your stomach.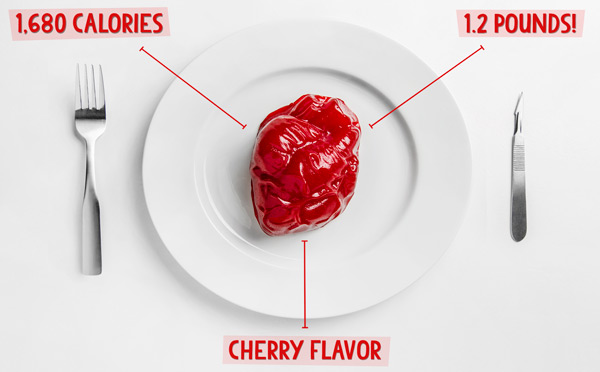 This thing has more heart than Rudy.
Frequently Asked Questions
Question: Is this life-like on the inside too?
Answer: The World's Largest Gummy Heart has human heart details on the front and sides only. The back and interior are un-styled gummy.
Question: Will this make me develop a taste for human flesh?
Answer: No, but this might.
Ingredients: Corn Syrup (From Corn), Sugar (From Beets), Water, Gelatin, Citric Acid, Artificial Flavor, Pectin (Derived from Fruits), Vegetable Oil (Coconut, Canola) and Carnauba Leaf Wax (To Prevent Sticking), FD&C Red #40, Palm Oil, Soy Lecithin (Prevents Sticking), Dimethyl Silicone (Anti Foaming Agent).
Allergen Statement: Contains Soy
Halal: No See all Halal
Gluten Free: Yes ✔ See all Gluten Free
Kosher: No See all Kosher
Nutrition Facts
Serving Size (about 40 g)
Serving Per Container 14
Amount Per Serving
Calories 120
Calories from Fat 0
% Daily Value*
Total Fat 0g
0%
Saturated Fat 0g
0%
Trans Fat 0g
Cholesterol 0mg
0%
Sodium 10mg
0%
Total Carbohydrate 29g
10%
Dietary Fiber 0g
0%
Total Sugars 19g

Includes 17g added sugars

Protein 2g
Burning Questions: You Ask, We Answer
Your questions that have been answered by the Vat19.com staff:
Sort by: Show Only:
Want to ask your own Burning Question?

First, please watch the

video

to the right. It explains the Burning Question feature and answers some common questions.

Now, if there is something that you need to know about this product that we've omitted, please send us an anonymous question and we promise to answer it within 1 business day.
Please excuse the shameless cross promotions!