World's Largest Tennis Ball
An inflatable jumbo tennis ball.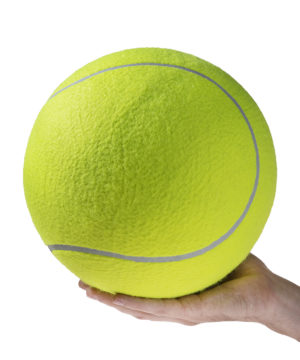 You may also like:
Overview
The World's Largest Tennis Ball is a fun and faithful enlargement of the sporting equipment with the same iconic design and fuzzy finish. And more importantly, it even smells like a regular tennis ball!

The inflatable sphere doesn't have the springiness you would need to serve up an ace, but it's still fun to bounce and throw. Keep it on your shelf as an eye-catching ode to the classy racquet sport, use it as a funny all-purpose sports ball, or give it to a pet who's been a really good boy. It's so much fun, you'll want to give it a hearty round of applause… until the chair umpire requests quiet.
Features & specs
Inflatable ball styled like a tennis ball
Diameter: 10"
Inflates in seconds
Not designed for use in tennis
Requires a pump with a needle to inflate (not included)
What's this "Sneak Peek" all about?
A typical Vat19 product page contains far more information (photos, text, and possibly a video or two) than what is currently available for this product.
But don't worry, this page will get the full Vat19 treatment in short order!
Until then, however, we felt compelled to make this curiously awesome product available to you intrepid shoppers who can't wait to get your hands on our latest and greatest finds!
Sorry! It's out of stock.
Burning Questions: You Ask, We Answer
Your questions that have been answered by the Vat19.com staff:
Sort by: Show Only:
Want to ask your own Burning Question?

First, please watch the

video

to the right. It explains the Burning Question feature and answers some common questions.

Now, if there is something that you need to know about this product that we've omitted, please send us an anonymous question and we promise to answer it within 1 business day.