Flip 'n Charge Solar-Powered Flickering LED Candles (Set of 2)
Rechargeable indoor/outdoor LED candles with a frosted-shade design.
You may also like:

$23.99
$29.99
Overview
The Flip 'n Charge Solar Powered Candle is the perfect outdoor candle. Its flameless LED light flickers to simulate a real candle and its frosted shade provides a warm ambiance to any outdoor area.

The long-lasting LED bulb will run for eight hours before requiring a recharge, which is as simple as flipping the unit over. A pair of patent-pending solar cells on the bottom of the unit will soak up the sun's energy for your next event, indoors or out.

Each set includes two Flip 'n Charge Flickering LED Candles.
Features & specs
Dimensions: 3.5" diameter x 3.5" tall
LED bulb flickers like a real candle
Simply flip over to recharge via solar panels on base
Frosted-shade design
Indoor / outdoor use
Lasts 8 hours per charge
Watch our Flip 'n Charge LED Candles video
Love our videos? Please subscribe to our YouTube channel:
Add instant atmosphere outdoors
We love us some traditional candles, but we have to admit that the convenience and style of these Flip 'n Charge solar-powered LED candles won us over instantly.
These simple, yet elegant candles feature a flickering LED that closely emulates the look of a traditional wick-based candle. The frosted shade provides a warm glow and turning it on and off is as simple as flipping it upside down.

The Flip 'n Charge Flickering LED Candle Lights look great and run for 8 hours on a single charge.

Recharges via solar cells on its base
The Flip 'n Charge Candle couldn't be simpler to use: To turn it "on", flip it right side up. To turn it "off" and recharge it, flip it upside down.
The solar cells on the base of the unit recharge the built-in lithium ion battery. A single charge will provide up to eight hours of illumination.

The solar cells recharge the Flip 'n Charge's built-in lithium ion battery.

Flickering LED creates the candle-like glow
A single amber LED is housed inside the frosted shade. It turns itself on and off rapidly (yet randomly) to emulate the flickering effect of a traditional candle. And unlike a real candle, there's no smoke, no flame, no wax, and therefore nothing to replace or clean up after all the wax melts.
That being said, we still love regular candles. But when it comes to the outdoors or simple convenience, the Flip 'n Charge Flameless Candle is hard to beat.

The amber LED inside the Flip 'n Charge is designed to flicker like a real candle.

Also perfect for indoor ambiance
Candle police will not issue a citation if you "burn" your Flip 'n Charge Solar LED Candle indoors. It's a great way to add atmosphere indoors, too.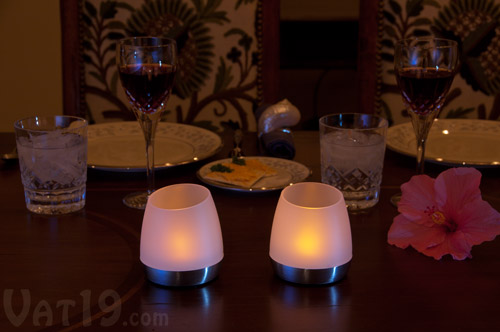 The Flip 'n Charge's simple frosted design complements any decor.

Includes two candles per set
Each purchase includes two Flip 'n Charge Flickering LED Candle Lights.

Each set of Flip 'n Charge Candles includes two units.

Frequently Asked Questions
Question: So, how do I turn it on?
Answer: There is no on/off "switch". Flipping it upside down turns off the LED and automatically starts the recharging process (provided there is light present). Flipping it rightside up automatically activates the LED.
Question: How long will it last?
Answer: On a single charge, the Flip 'n Charge Flameless Candle will "burn" for 8 hours. The LED bulbs themselves should last a lifetime and will never need to be replaced. Depending on the sunlight, it will take 3-6 hours to recharge the batteries.
Question: Is the flickering annoying?
Answer: Not at all. The frosted shade softens the light and creates a warm, amber-colored glow. The random flickering adds another element of realism by simulating the action of a real flame.
Question: Can I leave it outdoors indefinitely?
Answer: When not in use (or being recharged), it is recommended to keep the Flip 'n Charge indoors.
Question: Can it only be recharged via the sun?
Answer: The solar cells are the only way to recharge the built-in Lithium Ion battery. While incandescent, fluorescent, and other forms of artificial light will recharge a solar cell, natural and direct sunlight is by far the quickest and most efficient.
This product has been discontinued. Frown face!
Sorry, but this item is no longer available for purchase.
Burning Questions: You Ask, We Answer
Your questions that have been answered by the Vat19.com staff:
Sort by: Show Only:
Want to ask your own Burning Question?
Unfortunately, this product is not currently available for purchase. Therefore, we cannot accept any new burning questions. Sorry!