Bezl iPhone 5 & 6 Protector
World's most minimal iPhone case.
You may also like:
Overview
Love the look and feel of your iPhone, but don't want to shroud it in a bulky case? The Bezl Edge Protector is your answer!

Bezl is a minimalist "case" that consists of four plastic corner guards that attach with adhesive foam. The impact-resistant plastic protects the entire phone from skids as well as drops of up to 6 feet on to concrete!

Smooth edges ensure Bezl slides easily in and out of pockets, and its compact design ensures you can easily plug in audio and Lightning cables. With Bezl, you can stand your iPhone upright for self-timed photos and video viewing.

Available in black (6S/6/5S/5) and white (5S/5 only). Compatible with iPhone 5/5S&6/6S only.
Features & specs
iPhone 6/6S/5/5S compatible
Impact-resistant ABS plastic
Withstands 6-foot drops on to concrete
Lab-tested adhesive leaves no residue if removed
Acts as a stand for viewing videos or self-timed photos
Love our videos? Please subscribe to our YouTube channel:
Hate bulky cases? Then Bezl is for you!
The creator of Bezl wanted to create a case for people who love the design of their iPhone, but who still desire some level of protection for their expensive device.
The iPhone 5 & 6 are gorgeous products. It's really a shame to entomb them in some sort of indestructible fortress. The Bezl protects your investment with minimal impact on the design aesthetic.

Preserve and enjoy your iPhone's design while simultaneously protecting it with Bezl.
Minimalist design, effective 360° protection
The screen is the most frequently damaged part of the iPhone. Unless you're beating your phone with a hammer, screen fractures occur from drops. This is precisely what Bezl is designed to protect against.
Its four edge pieces provide substantial protection in the event of a dropped phone. The manufacturer has repeatedly proven Bezl by dropping it from 6 feet on to concrete. Our evil boss only allowed us to drop his phone from 4 feet onto asphalt (he's a total baby, right?) and it passed with flying colors.
Bottom line: Bezl works.

Despite its minimalist design, the Bezl will protect your phone from accidental drops onto concrete from up to 6 feet!
Unfettered access to buttons, switches, and ports
Bezl iPhone Protectors leave clear access to your phone's lightning connector, headphone jack, microphone, on/off button, volume buttons, and ring/silent button.
It might seem like a small detail, but many cases prevent some styles of headphone plugs from fitting flush with the iPhone. This prevents the cable from making a proper connection (aka not working at all). With Bezl, you have 100% clear access to all buttons and connectors. Plus, the microphone is completely uncovered.

Unlike cases, Bezl leaves all buttons, ports, speakers, and microphones clear of obstructions.
Easy to grip and doesn't snag on pockets!
A completely "pure" (or case-less) iPhone is actually pretty slippery. It can slide out of your hand fairly easily. After testing the Bezl for about a month, we found that the edge protectors provide nice gripping points.
We also learned that the Bezl never snags on your pockets due to its smooth beveled edge. Like most people, we use our iPhone constantly throughout the day. It's in and out of tight jeans (yep, that's how the evil boss rocks his legwear) and he never experienced a single snag.

The Bezl Edge Protectors make it easier to grip your phone
and their beveled edges prevent snags on your pocket.
Doubles as a stand
Viewing a short video with friends is made a tad easier with Bezl since it doubles as a stand. And though not substitute for a tripod, it can also help improve your self-timed photos.

Prop up your phone with the Bezl iPhone Edge Protectors.
Choose your color!
The Bezl iPhone Protector is currently available in white (5S/5) and black (6S/6/5S/5).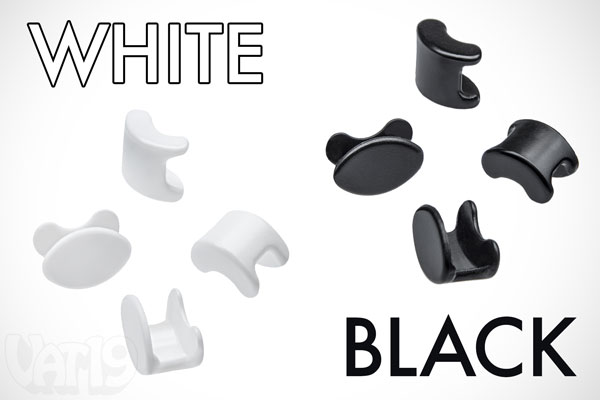 Choose from several colors of Bezl iPhone Protectors.
Frequently Asked Questions
Question: How do you attach the edge protectors to your phone?
Answer: Bezl sticks to your phone with an adhesive lab-tested technology that holds them securely in place. However, when desired, you can pull them off and zero (none! zip! zilch!) residue will remain.
Please note that reapplying the protectors after being removed will result in a weaker adhesion and the protectors could fall off.
Question: Will it work with my screen protector?
Answer: Yes! Bezl will fit over any standard screen protector.
Question: How does this keep my phone waterproof?
Answer: It doesn't. Bezl wasn't designed to completely fortify your iPhone from every imaginable attack. Rather, it takes the approach that the iPhone was tirelessly designed and engineered to be aesthetically beautiful. Most cases obscure the design. With Bezl, you get the best of both worlds: protection while preserving the original design intent.
Question: But does it work?
Answer: Yes. We don't have spare iPhones lying around. So, when the manufacturer sent us samples, we were skeptical to even try it out for fear of ruining a business phone. Eventually, they sent us enough video evidence for us to try it out and we were extremely pleased with the results. Not a scratch on any part of the phone. Bezl works as advertised.
Where can I buy this awesomeness?
Burning Questions: You Ask, We Answer
Your questions that have been answered by the Vat19.com staff:
Sort by: Show Only:
Want to ask your own Burning Question?
This product is no longer available for purchase directly from Vat19. Therefore, we are no longer accepting new burning questions at this time. Sorry!