BusyBody Animated Illusion
Quick-pose animating toy.
Videos


Easily bend and pose each character's limbs as well as its stand.

Watch video for: BusyBody

Video: BusyBody demo video.
Overview
Watch the mirror in the center of the turntable, give it a spin, and trick your mind into seeing BusyBody run, jump, swim, and more.

The moving figure is really ten stationary clones with slightly different poses. As they rapidly spin on the turntable, your brain tricks your eyes into seeing them as a single humanoid in action. You can pose and repose the bendy Q-Man-like figures to make BusyBody do all kinds of actions.

Based on a 19th century precursor to the film projector, BusyBody makes animating a moving figure fun and easy. It's like a real-life GIF!
Features & specs
Persistence of vision optical illusion toy
10 posable and reposable figures
Material, stand and mirror: plastic
Material, posable figures: rubber outer with wire armature
Recommended ages: 8+
You may also like:
Love our videos? Please subscribe to our YouTube channel:
Let your eyes play tricks on you
BusyBody works using persistence of vision, the same principle that turns a series of still pictures into a video. When you see lots of different images very quickly, your brain interprets this as a movie. The BusyBody works the same way, except instead of pictures, you focus on the spinning mirrors in the center of the device.
Move your body!
The magic behind BusyBody is that each of the ten figures is independently posable. Every single rubber figure has a wire armature skeleton running inside of it, so when you bend its arms or legs into a certain position, it stays that way. Not only do the figures themselves bend, but so do their removable mounting posts, which helps you pose BusyBody just the way you want.
The combination makes for a dizzying number of poses for your figures, and the durable system means when you're ready to make BusyBody do a different action, he's always up for the job. Make BusyBody walk, run, jump, swim, do a backflip, practice karate, bow, curtsy, take a silly high-steppin' walk, twirl, dance, and more!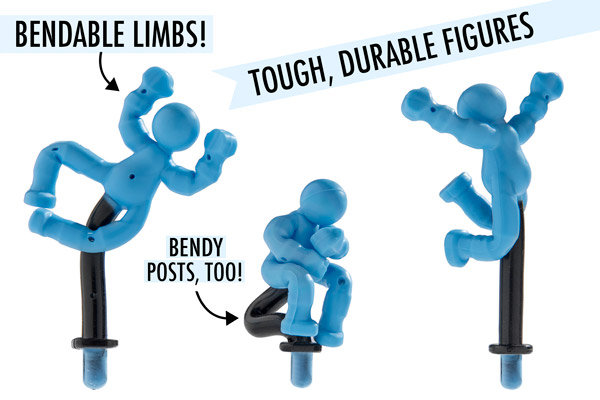 It's fun to stay at the YMCAYMCAYMCAYMCAYMCA...
Question: How does it project the image?
Answer: BusyBody does not have a projector. Instead, you view your ten-frame "movie" by watching the mirror on the carousel. When you focus on the mirror closest to you and spin the wheel, you'll see reflections of the characters on the outside of the wheel merging into a single animated figure.
Question: What if I want to change the action and poses of the figures?
Answer: BusyBody is not a one-time use toy. The rubberized figures can be posed in different positions and postures over and over again, so you can keep experimenting with new actions.
Question: Can I make an awesome choreographed fight scene with two of them?
Answer: With enough creativity and determination, you can certainly make some pretty cool animations. Keep in mind, as fun as BusyBody is, it has some limitations. If you want to make a looping animation, you're going to want to make the transitions between each of the ten figures pretty small so that the movement looks smooth. Also, since the figures spin on a wheel, it would be challenging to make multiple BusyBodies look like they're interacting.
Where can I buy this awesomeness?
Burning Questions: You Ask, We Answer
Your questions that have been answered by the Vat19.com staff:
Sort by: Show Only:
Want to ask your own Burning Question?
This product is no longer available for purchase directly from Vat19. Therefore, we are no longer accepting new burning questions at this time. Sorry!
Please excuse the shameless cross promotions!