Butter Bell Butter Crock
Keep butter spreadably soft and farm fresh in a French butter dish.

Videos

Watch video for: Butter Bell Butter Crock
Overview
When you've got a hearty slice of bread, the last thing you want is to tear it with a rock-hard pat of refrigerated butter. Keep your butter soft and fresh by storing it in the Butter Bell Crock.

This two-piece pottery crock keeps butter fresh on your kitchen counter for up to 30 days, all while preserving the spreadable consistency of your favorite food flavoring.

Simply press your butter into the lid and keep the lower bowl filled with fresh water. You'll have instantly spreadable butter ready whenever you want it!
Features & specs
Room-temperature butter storage stoneware
Keeps butter soft and fresh at the same time
Holds one stick (1/2 cup) of butter
Material: ceramic
Dishwasher safe
Keeps butter fresh for up to 30 days
Dimensions: 3 1/2" diameter x 4 1/4" high
You may also like:
Love our videos? Please subscribe to our YouTube channel:
Better butter bowl
Keep your butter in a Butter Bell Butter Crock, and you'll keep your butter smooth and spreadable.
Taste is about texture as much as flavor, and room temperature butter is simply easier to work with and yummier than the hard stuff straight from the fridge. Make your baked goods, vegetables, and—let's face it—just about everything more flavorful when you spread a smear of fresh, creamy butter from a Butter Bell.
The clever crock doesn't use plugs, batteries, or any electricity at all to keep your butter fresh and spreadable. Instead, your gustatory gold is kept fresh by a barrier of cool water.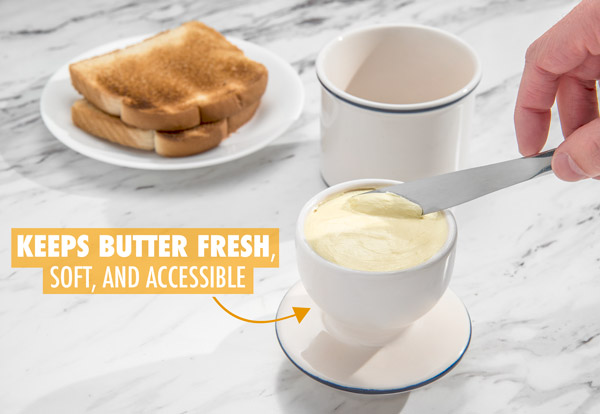 Your toast will thank you.
Easy earthenware
The time-honored French method of keeping spreadable butter at hand is as easy as turning on the tap.
Simply add about 1/3 cup of cool, fresh water to the lower basin of the crock. Then pack a stick of butter into the Butter Bell's lid. Once you set your lid onto the basin, the water forms a seal that protects the butter from going rancid for up to a month! Now you can keep your butter on the kitchen counter for an always-available, always-spreadable, and always-fresh condiment.
To maintain maximum freshness, we recommend replacing the water in your basin about every three days.

Extend your butter's shelf life and spreadability.
Frequently Asked Questions
Question: Will this still work in a warm climate?
Answer: The water inside the Butter Bell helps insulate the butter from fluctuations in temperature. The manufacturer recommends keeping the ambient temperature below 80ºF (26ºC) to assure 30 days of butter freshness, which is pretty easy to maintain in a house with air conditioning and proper insulation.
Question: Won't the water make my butter soggy?
Answer: Nope! Since the lipids in butter naturally repel water, water can't seep into your butter.
Where can I buy this awesomeness?
Burning Questions: You Ask, We Answer
Your questions that have been answered by the Vat19.com staff:
Sort by: Show Only:
Want to ask your own Burning Question?
This product is no longer available for purchase directly from Vat19. Therefore, we are no longer accepting new burning questions at this time. Sorry!
Please excuse the shameless cross promotions!