Butter Bell Butter Crock
Always have soft and spreadable butter with this butter keeper.
You may also like:
$7.99
$15.99
Overview
The Butter Bell Butter Crock uses a centuries-old French method for keeping butter fresh and spreadable. With this butter keeper you can safely store your butter on your countertop. No more hard, refrigerated butter that rips through your toast.

This butter crock is made from durable stoneware and holds one stick of butter for up to 30 days without requiring refrigeration. All that our Butter Bells require are cold, fresh water to perform their magic.
Features & specs
Dimensions: 3.5" diameter x 4.25" high
Holds one stick (1/2 cup) of butter
Made of durable stoneware
Dishwasher safe
Keeps butter fresh for up to 30 days
Watch our Butter Bell Butter Crock video
Love our videos? Subscribe to our YouTube channel:
Butter that's always smooth and spreadable
Even if you don't eat toast, you're familiar with the havoc caused by cold, brittle butter. With the Butter Bell Butter Crock, all of your annoying butter problems are solved.
This butter keeper maintains the ideal temperature for fresh, spreadable butter without requiring any cords, batteries, or fossil fuels. In fact, it uses a centuries-old French method that uses water to create an air-tight seal around your butter!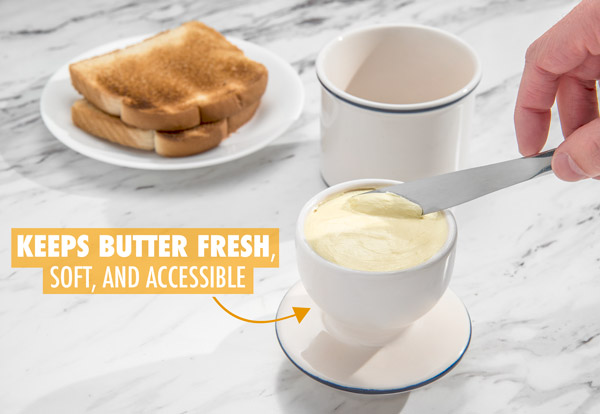 Avoid messy and annoying butter problems with the Butter Bell butter crock.
Simple and easy to use
Some kitchen gadgets require batteries and a Master's in Engineering. The Butter Bell Butter Crock requires 1/3 of a cup of cool water and the stick of butter that you'd like to keep fresh and spreadable.

With the Butter Bell and a bit of water, your butter will stay fresh and spreadable for up to a month!
Here's how it works
An air-tight seal of water is created at the base of the Butter Bell butter crock. This maintains your butter's flavor and freshness. To maintain maximum freshness, fill the base of the Butter Bell butter keeper with fresh water every three days.

The air-tight seal of the butter crock ensures freshness.
Can't live without it?
Smash that 'Add to Cart' button!
Burning Questions: You Ask, We Answer
Your questions that have been answered by the Vat19.com staff:
Sort by: Show Only:
Want to ask your own Burning Question?

First, please watch the

video

to the right. It explains the Burning Question feature and answers some common questions.

Now, if there is something that you need to know about this product that we've omitted, please send us an anonymous question and we promise to answer it within 1 business day.