Cake Sodas
Carbonated soft drinks that taste like cake.
You may also like:
Overview
Thanks to Melba, you can have your cake and drink it too.

Melba's Cake Sodas taste like baked desserts in liquid form with bubbles to boot. Each cake flavor is deliciously accurate and so moist that now you can drink it!

Buy your cake...er...sodas individually or save with a 6-pack which includes two glass bottles of three delicious flavors: carrot cake, strawberry shortcake, and birthday cake.
Features & specs
Cake-flavored soda pop
3 delicious flavors: Carrot Cake, Strawberry Shortcake, and Birthday Cake
Note: 6-pack includes two of each flavor
Made with pure cane sugar
12 fl. oz. per soda (354.8 mL)
Made in the USA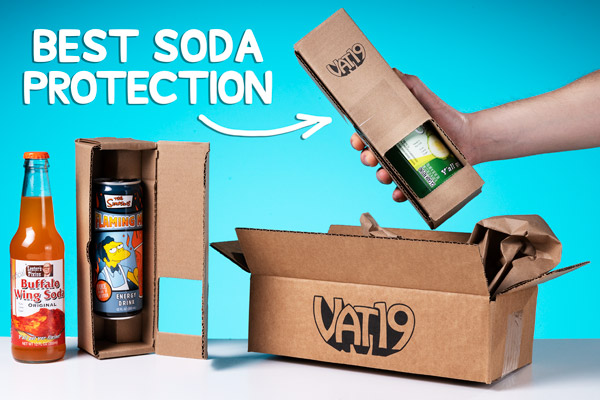 Love our videos? Please subscribe to our YouTube channel:
Fizzy frosting flavor
If there was one complaint we had about cake, it'd be that it's not also soda. But thanks to Melba's Cake Sodas, it is! These sweet dessert soda pops taste like actual cake, but they're drinkable beverages bursting with flavor, fizz, and birthday wishes. Yum!
Certified cake
Some things taste different from what they claim to be (which isn't always bad), but there's nothing misleading about these pops. Cake Sodas taste exactly like their namesake cakes: carrot cake, strawberry shortcake, and birthday cake.
With the taste of cake and the smooth drinkability of a soft drink, these Cake Sodas take on a fizzy flavor that can most accurately be described as deee-licious!

These sodas truly embody the flavor of their respective cakes.
A sweet sixer
When it comes to deciding among which cake flavors to choose from, you might feel stuck. Don't worry; we've helped you out by grouping the three cane sugar-sweetened flavors into a six-pack. You get to sample each of the American-made sodas and share the experience with a birthday boy or girl!

One order gets you six sodas: two of each of the three delicious flavors.
Can't live without it?
Smash that 'Add to Cart' button!
Burning Questions: You Ask, We Answer
Your questions that have been answered by the Vat19.com staff:
Sort by: Show Only:
Want to ask your own Burning Question?

First, please watch the

video

to the right. It explains the Burning Question feature and answers some common questions.

Now, if there is something that you need to know about this product that we've omitted, please send us an anonymous question and we promise to answer it within 1 business day.