Catch of the Day Fish Beverage Cooler
A fish-shaped cooler for your drinks.
You may also like:
Overview
When you're heading out on a fishing trip, you need the essentials: a tackle box to lure fish and a stocked cooler to lure fishing buddies. The Catch of the Day Cooler is a fun way to store your beverages whether you're on a boat or chilling at a backyard party.

This large, eye-catching cooler bag measures over two feet long (but we'll later tell people it was four feet if it was an inch). There's plenty of room for bottles in the main body of the fish while the ends are great for cans and snacks. The EVA-lined interior will keep your cold ones cold, and the adjustable strap makes it easy to carry them on land or sea.
Features & specs
Soft-sided cooler bag styled like a fish
Adjustable, removable strap
3D fins
Material: polyester with EVA lining
Approx. dimensions: 26" x 9.5" (66.04 cm x 24.13 cm)
Spot-clean only
Drink like a fish
Fishing is as much about relaxation as it is sport, and there's no better way to chill by the water than with a chilled beverage.
The Catch of the Day Cooler's fun fishy design will stand out on the dock while the large interior will keep your beverages as cold as lake water. It's a fish you definitely won't want to catch and release.

Catch a cold one!
Reel in a refill
Give a man a fish and he eats for a day. Give a man a fish cooler, and he pairs that fish with a cold drink! We're pretty sure that's a proverb, but even if it's not, the Catch of the Day Cooler is a great addition to any gathering.
Stuff it to the gills with up to six drinks and know they'll stay cold within the insulated liner (which is also easy to clean). Mount it on your shoulders with the adjustable strap, and you'll be set for the day.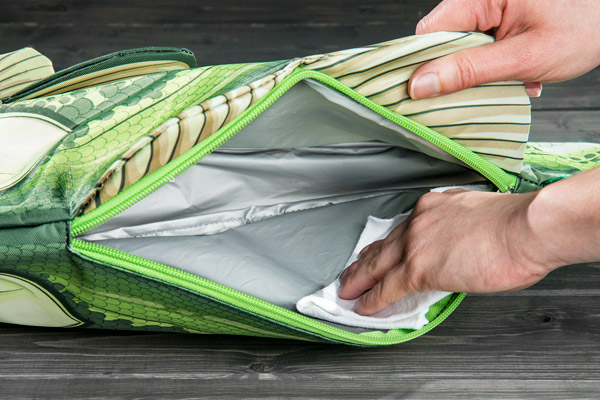 Fish out of water
The soft-sided Catch of the Day Cooler features 3D fins for humorous authenticity, a zippered enclosure for easy drink access, and an adjustable strap that can swivel to your needs or be removed altogether.
Pack the cooler on your next fishing trip or bring it to a party to show off your love of the outdoors (and delightfully goofy products).

When you're hooked on drinking.
Frequently Asked Questions
Question: Is this for storing caught fish?
Answer: The Catch of the Day Cooler is designed to hold beverages, but you're welcome to try storing anything that you want to keep cold.
Question: Can I keep it in the water next to me?
Answer: This is one fish you should try to keep on dry land.
Where can I buy this awesomeness?
Burning Questions: You Ask, We Answer
Your questions that have been answered by the Vat19.com staff:
Sort by: Show Only:
Want to ask your own Burning Question?
This product is no longer available for purchase directly from Vat19. Therefore, we are no longer accepting new burning questions at this time. Sorry!