Escape the Room
Table-top escape-the-room experience for at-home fun.
You may also like:
Overview
Escape the Room is a genre of popular mental puzzle games that have moved from video games to specialized facilities, and now into your own living room!

Transform your home into the stargazer's manor as you and a group of trusted friends assume the identity of investigators unraveling the mystery of a strange astronomer's disappearance.

You'll need to work together (even the host can participate) to find and solve a series of puzzles to get to the bottom of the strange goings-on. Can you and your team of sleuths uncover the mystery before time runs out?

Find out when you and your friends dive in and play this at-home version of Escape the Room.
Features & specs
Escape-the-room experience designed for at-home play
Work with friends to solve challenging puzzles
Discover clues, solve puzzles, and unravel the mystery
Designed for 3 to 8 players
Up to 90 minutes of play
Recommended for ages 8+
No, you're not literally locked in a room
Escape your own room
In this take-home version of the puzzle phenomenon, you're not really locked in your own home. But you will be locked into solving the challenges and answering the questions before time runs out.
Just like in an escape the room challenge, this box contains a series of puzzles you must sequentially solve to uncover the full picture and win the game. The game requires cooperative play for three to eight of your friends.

There's a mystery afoot!
Unlock the mystery
Escape the Room is an experience in a box. We don't want to spoil the surprise for you, but the mystery of what happened to the professor can only be solved by you and your friends.
Your party must work together to progress through five unique puzzles. Use logic and reasoning to find the answers. Then check them against the solution wheel and dive deeper into the mystery by opening the next envelope. Upon solving the final puzzle, you'll have all the answers.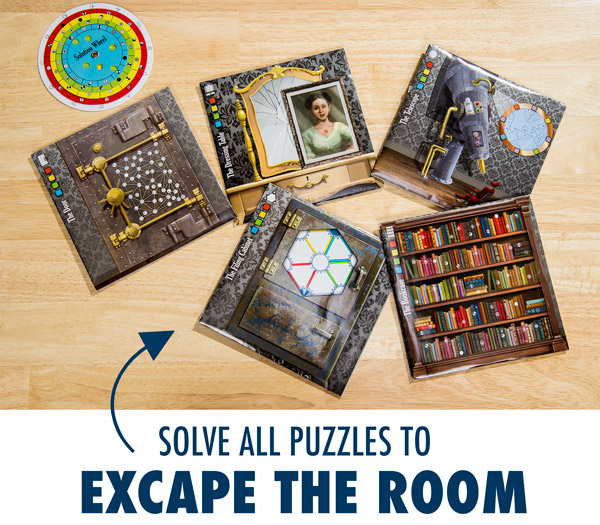 Enter the mansion from the comfort of your living room.
A room in a box
Open the game box to reveal a world-building experience with a series of story-based clues. The game includes five sealed puzzle envelopes and a cypher-based solution wheel to confirm your answers to each puzzle.
Invite anywhere from two to seven more friends over to your home and escape to a mystery just begging to be solved.

BYOCAI (Bring Your Own Curiosity and Ingenuity).
Frequently Asked Questions
Question: Is it replayable?
Answer: None of the game elements will be destroyed as your group plays, but you will already have solutions to all of the puzzles after playing, so you won't be able to enjoy the unfolding mystery with additional plays through. Mystery at the Stargazer's Manor is an entertainment experience best enjoyed once per person.
Question: So whodunit?
Answer: The butler… OR DID HE?!?
Where can I buy this awesomeness?
Burning Questions: You Ask, We Answer
Your questions that have been answered by the Vat19.com staff:
Sort by: Show Only:
Want to ask your own Burning Question?
This product is no longer available for purchase directly from Vat19. Therefore, we are no longer accepting new burning questions at this time. Sorry!