Giant Bead Stress Ball
A giant stress-relief toy filled with squishy beads.
You may also like:

Overview
When stress has you seeing red or feeling blue, indulge in the colorful catharsis of the Giant Bead Stress Ball.

The Giant Bead Stress Ball is the perfect toy to grab when you need to vent. This squishy, rubbery ball is filled with tiny green, yellow, and blue orbs that flow through your fingers as you stretch and knead your cares away.

This ball is transparent and three times the size of a normal stress ball, so you can see the satisfying cascade of beads as you let the stress flip through your hands and out of your head. Whether it's to release some built-up tension or kill time at work, the Giant Bead Stress Ball will lower your anxiety levels (and your boredom).
Features & specs
Squishy stress toy filled with soft, colorful orbs
Approx. diameter: 5'' (12.7 cm)
Approx. weight: 32.35 oz (917g)
Material: TPR (may irritate those with a latex allergy)
Love our videos? Please subscribe to our YouTube channel:
Squish out stress
When your blood pressure begins to rise, put the pressure on the Giant Bead Stress Ball to manage your worries and give your hands something to squeeze. This oversized stress reliever is a durable, squishy ball with a whole bunch of ittier, bittier balls contained within. Like the Giant Stress Ball, this anti-tension tool is big enough to help you manage your biggest problems, and the mini orbs add a bonus textual treat.
You'll have so much fun squeezing, striking, and stretching the Giant Bead Stress Ball that you just might find yourself trying to get into a pinch, backed into a corner, or caught between a rock and a hard place just to have a reason to pick it up.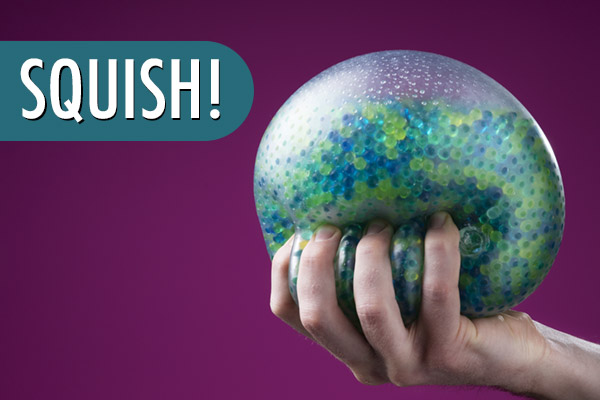 Frequently Asked Questions
Question: What are the beads like?
Answer: The beads themselves seem to have a similar texture to squishy Spitballs, but while those are made to break down, these beads are made to stand up to your squeezin'.
Question: Won't the beads pop?
Answer: Actually they're quite durable.
Burning Questions: You Ask, We Answer
Your questions that have been answered by the Vat19.com staff:
Sort by: Show Only:
Want to ask your own Burning Question?

First, please watch the

video

to the right. It explains the Burning Question feature and answers some common questions.

Now, if there is something that you need to know about this product that we've omitted, please send us an anonymous question and we promise to answer it within 1 business day.