The Goonies Deck of Playing Cards
Officially licensed hand-drawn Goonies playing cards.
You may also like:

Overview
Hey, you guys! Check out these awesome officially-licensed The Goonies playing cards.

Based upon one of our all-time favorite movies from the 80s, The Goonies Playing Cards are a richly illustrated and high-quality deck of cards.

Each face card features artwork of a different character from the movie. Mikey, Mouth, Data, Chunk, Mama, Andy, Francis, Sloth, and more — they're all there!

Custom jokers, superbly detailed box and back-of-card designs, and an air-cushion finish ensure this deck of cards is a treasure even One-Eyed Willie would be proud to own.

Made in the USA.
Features & specs
Officially licensed
52 cards + 2 jokers (red & black)
Faces cards feature illustrations of Goonies characters
Intricately illustrated box and card backs
Air-cushion finish ensures smooth handling and long life
Made in the USA by USPCC
Love our videos? Please subscribe to our YouTube channel:
Richly illustrated designs
We're not bluffing when we say these cards have some of the best artwork we've seen.
The reverse of each card displays pirate-inspired artwork inscribed with the motto "The Goonies never say die". Each face card features a different movie character, including the Goonies, the Fratelli family, and even One-Eyed Willie.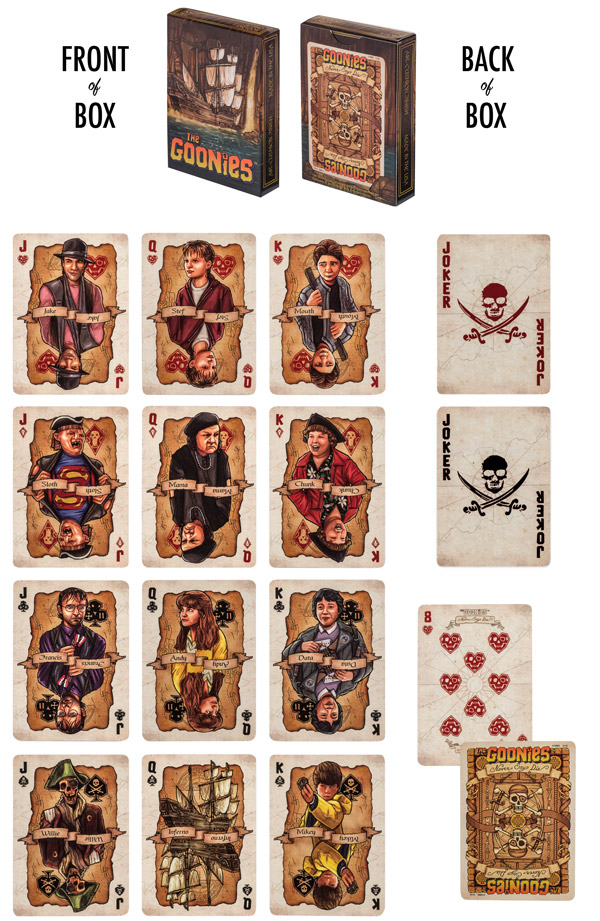 The deck's face cards feature detailed illustrations of characters from the movie.
Where can I buy this awesomeness?
Burning Questions: You Ask, We Answer
Your questions that have been answered by the Vat19.com staff:
Sort by: Show Only:
Want to ask your own Burning Question?
This product is no longer available for purchase directly from Vat19. Therefore, we are no longer accepting new burning questions at this time. Sorry!