Grill Floss BBQ Grill Scraper Tool
A scraper that keeps your BBQ grate clean.
You may also like:
Overview
If your grill surface is still covered in a greasy funk from your last BBQ, that unwanted flavor is going to season your fresh food (and ultimately your tastebuds).

Keep your grill in tip-top condition and your foods tasty when you prepare your grill with Grill Floss. The all-metal cleaning tool features a screwed-in scraper that surrounds and scrubs all sides of a grill bar without removing the grate. With nineteen inches of leverage on your side, the tool does the work for you while you keep clear of the heat.

Grill Floss makes your grill so clean you could eat off it!
Features & specs
Grill scraping tool
Cleans all around round grill grates
Four different attachment sizes for small, medium, large, and extra-large bars
All-metal construction
Includes eyelet with a fabric loop on the handle
Length: 19" (48.3 cm)
Love our videos? Please subscribe to our YouTube channel:
Better than a brush
You want your BBQ chicken to taste like BBQ chicken—not last week's burgers. When you fire up the grill, make sure it's spick-and-span with Grill Floss, a rigid rod perfectly designed for cleaning your grill grate. Glide the c-shaped scraper along each rod to push off all the gunk, grease, and grime for a clean, fresh grill surface.
Bristle-free BBQ
Getting the really burnt ends and old grease off of a grill grate requires elbow grease. Unfortunately, when you use a wire brush, the combination of pressure, heat, and friction means those steel bristles will snap off and potentially get lodged in your food.
Grill Floss solves that problem by replacing the bulky head of bristles with a streamlined scraper that can get the top, bottom, sides, and spaces in between without leaving behind any dangerous debris.

Cleans better than a brush and doesn't leave bristles in your food!
Scrape to size
Grill Floss includes four different sized scraping heads which are easily interchangeable to fit all round grill grates. Each head locks into place with a nut and bolt, so once you've set your size, you don't need to worry about it slipping off.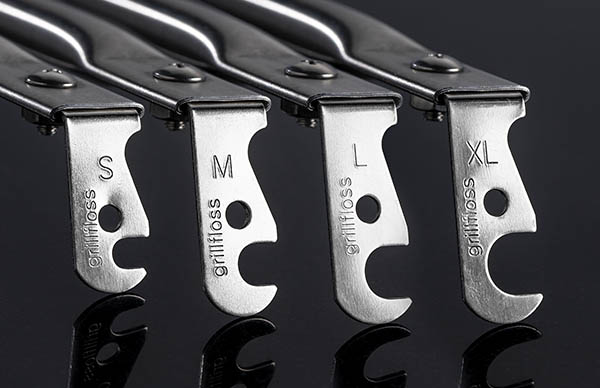 4 sizes are included to adjust to any size of round grill grate.
Stainless steel sturdy
Grill floss is made to stand up to the rigors of an intense BBQ summer with durable stainless steel construction and a 19" rod to give you leverage to remove the funk and gunk of grilling.
Grill Floss comes with a weather-resistant shock cord loop to hang it on a grill hook, always at the ready. That way, your blackened chicken isn't the wrong kind of blackened.

19" handle with hanging loop and stainless steel construction.
Frequently Asked Questions
Question: What size is the nut that attaches the head to the rod?
Answer: If it's not finger-tight, exchanging the heads requires a Phillips head screwdriver and an 11/32" wrench.
Question: People call me the Grill King. What else you got for me?
Answer: Once your grate is clean, you're going to want an interesting way to grill your meat, a tool to flip it, and an apron to keep your condiments at the ready, your majesty.
Burning Questions: You Ask, We Answer
Your questions that have been answered by the Vat19.com staff:
Sort by: Show Only:
Want to ask your own Burning Question?

First, please watch the

video

to the right. It explains the Burning Question feature and answers some common questions.

Now, if there is something that you need to know about this product that we've omitted, please send us an anonymous question and we promise to answer it within 1 business day.