Jelly Belly Holiday Favorites Gift Box
A box of jelly beans with five festive flavors.
You may also like:
Overview
Holidays are a time of love, togetherness, and (most importantly) delicious food. The Holiday Favorites jelly beans capture the flavors that make that time of year the most wonderful.

The gift box includes five jelly bean flavors that define the season: creamy eggnog, peppermint candy cane, the sweet spice of pumpkin pie, fruity cranberry sauce, and rich hot chocolate.

Try them one at a time or combine them to create delicious holiday combos. Each of these tasty jelly beans is so full of flavor, you'll yell down to the child in the street and call out, "You there, boy, what day is it?"

Please note: Jelly Belly does not allow us to ship this item outside the U.S.
Features & specs
Jelly Belly jellybeans imbued with seasonal flavors
Five flavors: eggnog, candy cane, pumpkin pie, cranberry sauce, and hot chocolate
Net wt.: 4.25 oz (120 g)
Made in the USA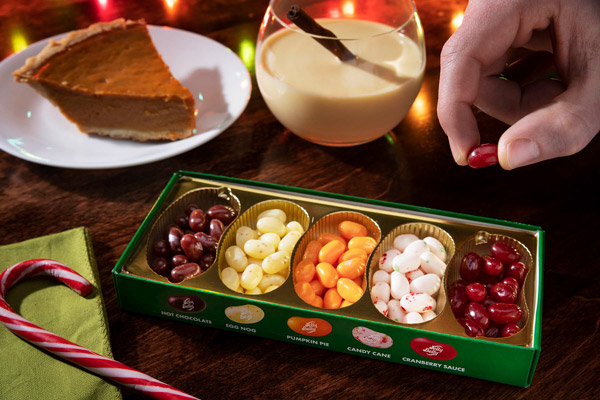 Sorry! It's out of stock.
Burning Questions: You Ask, We Answer
Your questions that have been answered by the Vat19.com staff:
Sort by: Show Only:
Want to ask your own Burning Question?

First, please watch the

video

to the right. It explains the Burning Question feature and answers some common questions.

Now, if there is something that you need to know about this product that we've omitted, please send us an anonymous question and we promise to answer it within 1 business day.