KitRex
A 3D dinosaur puzzle-craft.
$19.99
This item has been discontinued.
You may also like:
Overview
KitRex is a dinosaur puzzle 65 million years in the making. Bend and shape the fifteen cardboard pieces according to the included instructions to craft your tabletop triceratops.

Once you have pieced the horned herbivore together, add the two self-adhesive googly eyes to bring him to life. Now you can give your friend from the late Cretaceous period a custom look by coloring the cardboard with crayons, markers, or paints!
Features & specs
3D cardboard triceratops puzzle
15 foldable pieces
2 googly eyes
No extra glue or tape required
Includes: 8 sheets of die-cut cardboard, instruction sheet
Finished size: 18" x 8" x 5" (45.72cm x 20.32cm x 12.7cm)
Ages 6 and up
Made in the USA
Pop-up paleontology
If you want to find a dinosaur, all you need to do is go out to a scorching desert, systematically comb the inhospitable wasteland, and painstakingly dig for years.
Or you could pop out the cardboard pieces of a KitRex and assemble a triceratops in about an hour while sitting on your sofa. The three-horned papercraft is fun to fold together, and decorating the dinosaur is a delight!
Origamisaurus
KitRex conveniently arrives in a flat-pack series of cardboard sheets. To assemble the kit, pop out the 15 pre-cut shapes from the frame. Fold the body parts along the lines to give them dimension and connect them by inserting the tabs into the slots, locking them in place.
Now you've created a triceratops, and you didn't even have to play god!

Pop and lock.
Friction fit
Assembling a KitRex requires absolutely no glue or tape; the slot-and-tab design of the body parts keeps this trike together all on its own.
Everything you need to put the dino together is included in the flat folder. Even the included googly eyes come with their own adhesive backing, so the only extra tool you'll need is your own attention.

Look ma, just hands!
Contemporary cretacean chic
The easy-to-follow folding instructions result in an all-white desktop triceratops. This cardboard creature is your canvas, and it's up to you to decorate it!
So open up your art kit, express yourself, and go wild!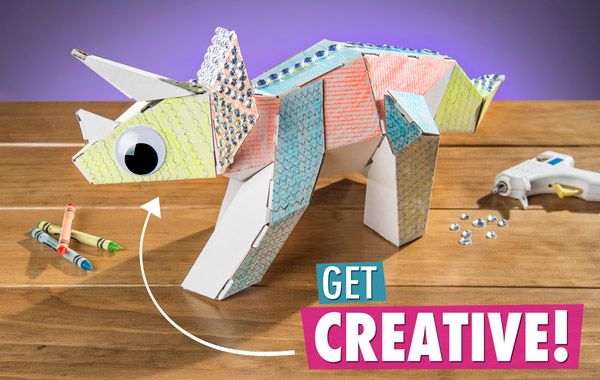 Fabulously fashionable fossils.
Frequently Asked Questions
Question: What colors does it come in?
Answer: The surface of KitRex is white so that you can paint it whatever color you like!
Question: Are you certain it doesn't require glue or tape?
Answer: Yep, we've made one ourselves. KitRex is glue-free and tape-free.
This product has been discontinued. Frown face!
Sorry, but this item is no longer available for purchase.
Burning Questions: You Ask, We Answer
Your questions that have been answered by the Vat19.com staff:
Sort by: Show Only:
Want to ask your own Burning Question?
Unfortunately, this product is not currently available for purchase. Therefore, we cannot accept any new burning questions. Sorry!