Levitron Revolution with EZ Float Technology
Floats nearly any object weighing up to 12 ounces.
Videos

Watch video for: Levitron Revolution
$99.99
This item has been discontinued.
Overview
The Levitron Revolution with EZ Float Technology is a mesmerizing way to display small objects. The device allows you to levitate and slowly rotate your collectibles, toys, small office supplies - pretty much anything weighing up to 12 ounces.

To float an object, you first levitate the included small magnetic disc. Four LED lights on the base station help guide the alignment. Next, place your item of choice on top of the disc. The Levitron automatically compensates for changes in weight by making up to 1,000 corrections per second to the electromagnets contained within the base.
Features & specs
Dimensions (base station): 4" x 4" x 0.75"
Dimensions (floating disc): 2" diameter
120V AC wall adapter
Ages 14+
You may also like:
Love our videos? Please subscribe to our YouTube channel:
It's levitation on your desk!
With the Levitron Revolution, you can float (and slowly rotate) nearly any object of your choosing.
The unit is extremely advanced in that it constantly adjusts the strength of magnetism so that adding or removing items does not cause the magnetic disc to fall. You can also spin items without fear of them falling.
Put this item on your desk and you're the king of awesome.

Levitate nearly any item with the Levitron Revolution with EZ Float Technology.

Float nearly any object up to 12 ounces
The Levitron Revolution can handle objects (even blatant cross-promos) weighing up to 3/4 of a pound.

Because that ninja weighs less than 0.75 pounds, you can levitate it on the Levitron.

Step 1: Float the magnetic disc
The Levitron Revolution creates levitation via magnetism. The base unit features magnets in each of its four corners. The processor inside continually adjusts their strength to keep the magnetic disc centered and floating.
In order to float the disc, you hold it above the unit and make small adjustments to its position until all four LED lights are illuminated. You'll feel the disc "catch" once it is properly aligned.

To use the Levitron, first align the magnetic disc with the aid of the four LEDs in the base.

Step 2: Place your object of choice on the disc
Once the magnetic disc is floating, you can place an item of your choosing on top of the platform. Make sure you pick out something awesome from your collection of products from Vat19.com (wink, wink).

Once the magnetic disc is floating, place an item of your choosing on top of it.

Spin it, bump it, add weight to it!
The Levitron's processor constantly adjusts itself (1,000 times per second!) to keep the magnetic disc centered and aloft. So, if you add weight to it, spin the object on top of it, or bump it, the disc will remain floating.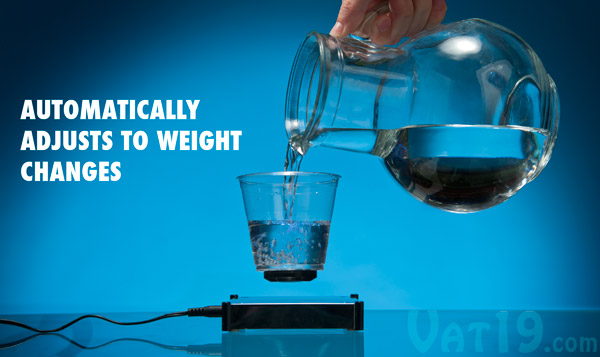 Changes in weight are easily compensated by the processor inside the base unit.

Add a whole lot of awesome to your desk!
The Levitron Revolution is an awesome gadget that appeals to everyone's inner geek. Seriously, you can float your stuff! Check out the images below. Hopefully, they'll inspire you to get your float on.

Float an endless variety of objects with the Levitron Revolution.

This product has been discontinued. Frown face!
Sorry, but this item is no longer available for purchase.
Burning Questions: You Ask, We Answer
Your questions that have been answered by the Vat19.com staff:
Sort by: Show Only:
Want to ask your own Burning Question?
Unfortunately, this product is not currently available for purchase. Therefore, we cannot accept any new burning questions. Sorry!
Please excuse the shameless cross promotions!