Light Stax (Base + 36 light-up bricks)
Building blocks that light up!
You may also like:
Overview
Light Stax build on the fun of interlocking bricks by integrating LED lights inside of each brick. When connected to one another, the bricks complete a circuit and light up. What a bright idea!

A base plate powers the 36 individual bricks and can be powered with the included USB cable or with 3 AAA batteries for on-the-go fun.

Each set of Light Stax contains 6 different colors of bricks that allow you to construct all kinds of creations. Build a glowing robot sentinel to stand guard or an illuminated night light shaped like a heart. Light Stax will also connect to the Lego and Duplo bricks you already own, so you can really make some grand and glowing structures.

To make your stack glow, touch the button on the base. If you press it again, it will cycle through the light modes which include: always on, 15 min auto-off, flashing, and fading.
Features & specs
36 LED colored building bricks
4 light modes
USB smart base
USB to DC power cable
3 x AAA batteries (included) for portable play
Compatible with Duplo and Lego blocks
Ages 3+
Love our videos? Please subscribe to our YouTube channel:
Take a shine to something new
Light Stax are a bright idea built on a classic toy. Each building block contains an LED light that illuminates if connected (directly or indirectly via other Light Stax blocks) to the included smart base.
Once you place a brick on the base, it receives a small current that will light it and any other brick connected to it. When your cornerstone brick is connected to the base, a block stacked 100 pieces away will still shine!

Not your daddy's building blocks.
Bright ideas
With 36 bricks in 6 colors, your designs can be a veritable rainbow of shapes, characters, or messages.
Build a glowing heart on Valentine's Day and then break it down the next day to craft a brilliant tower reaching to the sky. Once your structure is complete, you can pick your light mode by pressing the button on the base to cycle through several modes: always-on, 15 minute auto-off, flashing, or fading.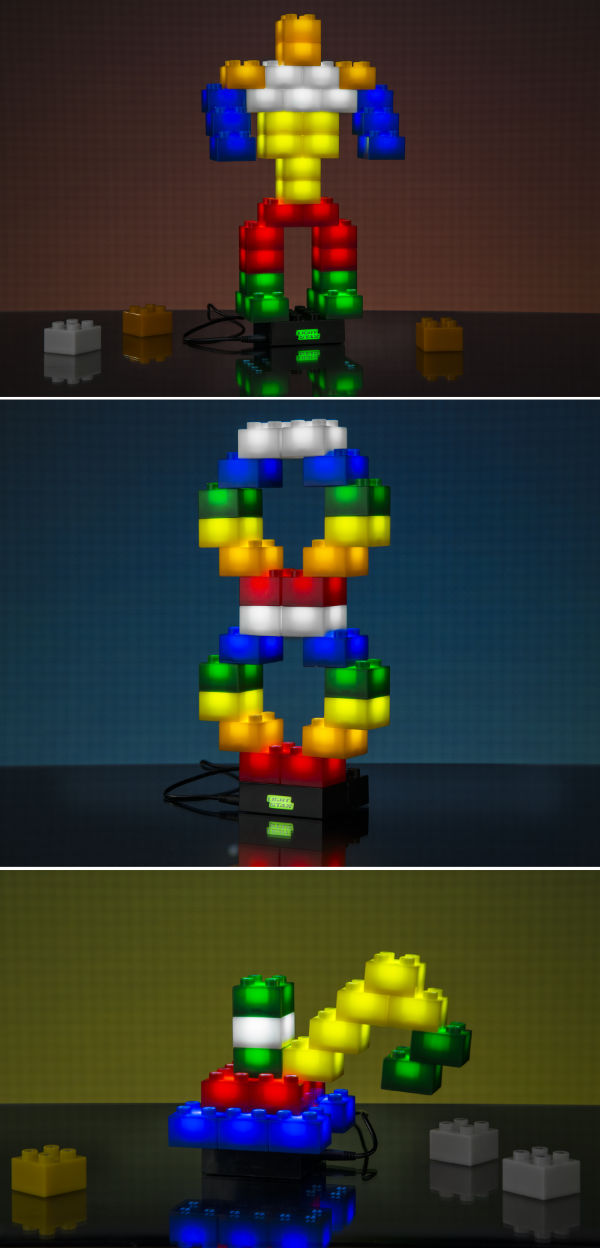 Build big or big small but always build bright.
Allies with the Danes
Light Stax aren't meant to replace your Legos or current blocks. They're just a totally new way to think of building when light is involved. In fact, the blocks work with LEGO and Duplo bricks so you can design and build even bigger, more complicated glowing structures and shapes.

Plays well with others.
On the Glow!
Light Stax give you a battery-powered option so you can unplug the base from your wall to make it a portable building system.
Take the blocks in the car to pass the time on a road trip, or bring one of your creations to school to show your classmates your glowing achievement. Three AAA batteries are included with the set to get you building right away.

Build a car in the car so you can drive while you drive.
Stax on Stax
Right out of the box, you'll have everything you need to start building a glowing monument.
Thirty-six bricks in blue, red, yellow, white, orange, and green will help you diversify your style, and the included batteries mean you don't need to wait to construct and illuminate with the powered base.

Get started stacking!
Question: They look big. How do they work with LEGOs?
Answer: LEGOs can attach to the bottom of the Light Stax provided that they are at least two knobs wide.
Question: How do they get power from the base?
Answer: There is a small metal ribbon inside the bricks that allows them to complete the circuit when connected to the base. As long as one brick is connected to the base and the others are connected directly or indirectly to it, they will all light up.
Where can I buy this awesomeness?
Burning Questions: You Ask, We Answer
Your questions that have been answered by the Vat19.com staff:
Sort by: Show Only:
Want to ask your own Burning Question?
This product is no longer available for purchase directly from Vat19. Therefore, we are no longer accepting new burning questions at this time. Sorry!