Magination Toolset
Magnetic toolkit for scientific exploration and creative play.
You may also like:

Overview
Magnets: how do they work? Unwrap the mystery of magnetism and master the science of attraction when you tool around with the Magination Toolset. Each kit contains a sampler platter of magnets, from discs to bars to curves.

Like a deck of cards, you're not limited to a single game; instead, you're invited to explore the possibilities with hands-on demonstrations of physics and fun. Push, pull, and shoot magnets with other magnets as you manipulate the set. Create structures and sculptures, test your skills, create new games, and find even more ways to play. However you decide to use them, we're positive you'll enjoy the experience of Magination.
Features & specs
Magnetic set for hands-on learning and creativity
Open-ended scientific exploration kit
Medium Set includes: 18 disc magnets, 18 double-magnet bars, and 3 triple-magnet curves with a carrying bag, instruction book, and stickers
Large Set includes: 24 disc magnets, 24 double-magnet bars, and 4 triple-magnet curves with a carrying bag, instruction book, and stickers
Neodymium magnets
1+ players
2+ minutes
Recommended for ages 14+
Disclaimer: This product contains small magnets. Swallowed magnets can stick together across intestines causing serious injury or death. Seek immediate medical attention if magnets are ingested. Keep away from pacemakers. This product is not a toy.
Love our videos? Please subscribe to our YouTube channel:
Magnets that attract your imagination
Magination Toolset is a magnetic kit that unlocks the potential of your mind with the power of magnets.
This set of magnets empowers you to open-endedly explore magnetic properties thanks to a massive 39-piece (Medium) or 52-piece (Large) collection. Between the disc magnets, bar magnets, and curved magnets, you'll have more than enough magnetic material to make scientific inquiries, play your favorite games in a new way, and build entirely unique creations.
Magnetic marvels
Each of the magnetic pieces in the Magination Toolset includes at least one rare earth magnet encased in a colorful shell. The disc magnets have one neodymium disc inside, the bar shapes hold two disc magnets, and the curved shapes contain three magnetic coins. Use their unique polarities to stack them together, chain them along, or repel them away.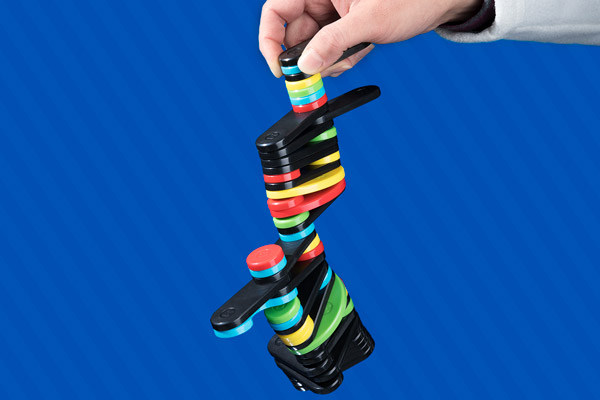 Hovering hockey
Thanks to the repelling nature of magnets and the low friction of Magination magnets on smooth surfaces, you can set up your own air hockey game right on your coffee table. Just drop the puck and skate to victory! Noisy fans NOT required.
Hole in fun
Set up your own golf course and play to see if you can make it to the hole in the fewest strokes. Watch out for the water hazard!
Polar placement
Playing with Magination certainly isn't limited to recontextualizing familiar games to magnetic tabletop play.
Create your own skill game by making a border and seeing how many magnetic discs you can add to the arena before it all falls apart. Things get tense as the space between each magnet shrinks and the board gets crowded, so use soft hands and place carefully!
Polar bounce pass
For another fun tabletop game, make a target and bounce the discs at it. For each one that sticks, award yourself a point!
Magnetic mesmerization
Magination isn't just about creating games. It's also about creating fascinating floating demonstrations. When you get your hands on the Magination Toolkit, unleash your imagination and see what you can discover!
Kit contents
We currently offer two sizes of the Magination Toolset. They each include a variety of magnetic pieces, a carrying bag, an instruction book, and stickers.
# of Discs
# of Doubles
# of Curves
Extras
Medium
18
18
3

Carrying Bag
Instruction Book
Stickers

Large
24
24
4
Choose from two kits!
Frequently Asked Questions
Question: Do the different colors have different strengths?
Answer: All of the embedded magnets have the same magnetic pull.
Question: Should I eat them?
Answer: Absolutely not! If that sort of thing is on your mind, you might want to consider playing with something too big to swallow.
This product has been discontinued. Frown face!
Sorry, but this item is no longer available for purchase.
Burning Questions: You Ask, We Answer
Your questions that have been answered by the Vat19.com staff:
Sort by: Show Only:
Want to ask your own Burning Question?
Unfortunately, this product is not currently available for purchase. Therefore, we cannot accept any new burning questions. Sorry!