Movie Popcorn Candle
A candle that smells like a buttery cinema snack.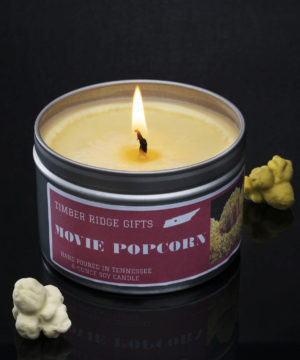 You may also like:
Overview
With giant flat-panel TVs, surround sound speakers, and ultra high-definition content, watching a movie at home has never felt more like visiting the movies… except for the scent.

There's never been a great way to capture the decadently buttery scent of theater popcorn at home until now. The Movie Popcorn Candle fills your personal cinema with the delicious aroma of those salty kernels doused in a stream of yellow topping. And unlike its inspiration, with more than two days of burn time, it'll be going strong well after the previews.
Features & specs
A candle scented like theater-style butter popcorn
Soy wax, 8oz (238ml)
Burn time: 50-60 hours
Hand poured in the USA
Dimensions: 2.5" x 3" (6.35cm x 7.62cm)
Sorry! It's out of stock.
Burning Questions: You Ask, We Answer
Your questions that have been answered by the Vat19.com staff:
Sort by: Show Only:
Want to ask your own Burning Question?

First, please watch the

video

to the right. It explains the Burning Question feature and answers some common questions.

Now, if there is something that you need to know about this product that we've omitted, please send us an anonymous question and we promise to answer it within 1 business day.