The Ostrich Pillow Mini
Ultra-compact and portable power napping pillow.
Videos

Watch video for: Ostrich Pillow Mini

Ostrich Pillow Mini — Gray / Black

Ostrich Pillow Mini — Gray / Blue
Overview
Dreamt up in Spain, the land of the siesta, the Ostrich Pillow Mini maximizes quality napping on the go.

Soft jersey-like fabric is stuffed with silicone-coated microbeads, creating a breathable compact cushion perfect for resting your head against.

Because finding the right sleep position makes all the difference, the versatile design allows you to wear it as an elbow pad, a forearm guard, or a boxing glove that will knock you out.

The ultra-portable pillow easily stows away in a purse or bag.

The Ostrich Pillow Mini is a comfortable travel pillow that helps you get quality rest wherever you are.
Features & specs
95% Viscose — 5% Elastomer
Polystyrene ball filling
Fits around the elbow, forearm, or hand
Hand wash
You may also like:
Love our videos? Please subscribe to our YouTube channel:
A pillow made for the way you sleep
One of the keys to getting a good nap is finding the right natural position to rest your body. Another key is a soft cushion for your head. The Ostrich Pillow Mini takes care of both. The pillow is designed to be used in multiple configurations with either arm for maximum comfort.

The versatile Ostrich Pillow Mini helps you rest in your favorite position.
Like dreaming on a cloud
Just like the original Ostrich Pillow and the Ostrich Pillow Lite, the OP Mini is made from a breathable jersey outer shell stuffed with silicon-coated micro-beads. This equates to resting your head on the best bean bag ever.
The OP Mini has just the right amount of firmness to cradle your head and just the right amount of softness to turn a tree, a park bench, or a car window into a blissful cushion.

The princess on the pea wishes she had an Ostrich Pillow Mini.
Power nap anywhere
The Ostrich Pillow Mini is the most compact Ostrich Pillow yet, but that doesn't mean it sacrifices your ability to get some shut-eye. Pick your perfect posture for rest and saw a log on public transportation, in the waiting room, or on your lunch break.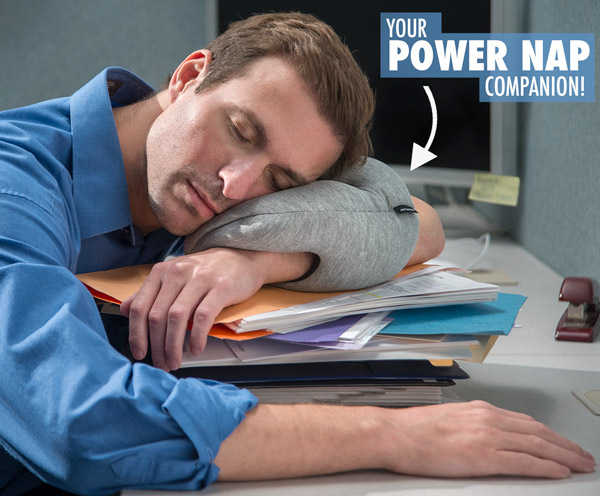 The OP Mini is perfect for work because we all know
there aren't any sheep in the conference room.
One pillow for all sleepy bodies*
We could all use a few extra winks, so it's a good thing Ostrich Pillow is made for just about anybody with arms and a head.
The combo of jersey fabric and bean bag filling ensures a comfortable fit on almost anyone. The OP Mini slips around an arm to fit on the elbow, forearm, or hand of both lefties and righties.

*Except the Hulk and Ant-Man.
Can't live without it?
Smash that 'Add to Cart' button!
Burning Questions: You Ask, We Answer
Your questions that have been answered by the Vat19.com staff:
Sort by: Show Only:
Want to ask your own Burning Question?

First, please watch the

video

to the right. It explains the Burning Question feature and answers some common questions.

Now, if there is something that you need to know about this product that we've omitted, please send us an anonymous question and we promise to answer it within 1 business day.
Please excuse the shameless cross promotions!