Piranha Plant Puppet
Super Mario hand puppet plant with a taste for plumbers.
You may also like:
Overview
Slip a Piranha Plant Puppet on your paw and warp into the world of Super Mario Bros.!

The hand puppet is styled after the iconic carnivorous polkadot plants from the world's most famous video game franchise.

Put your hand through the pipe to puppeteer the piranha and make it chew up Mario. Or go off-book and feature the sharp-toothed vegetable as the hero of its own story.
Features & specs
Hand puppet styled like a Mario Bros. piranha plant
Materials: synthetic fiber
Ambidextrous
Officially licensed
Love our videos? Please subscribe to our YouTube channel:
Plumbing problem
If you're side-scrolling down the street in the Mushroom Kingdom and you come across a green pipe, chances are you'll find a polka-dotted piranha plant.
If you come across a piranha plant in our world, chances are you'll find a hand inside that plant. This Mario-themed puppet pays homage to the ubiquitous man-eating plants that plumbers have to deal with when saving a kidnapped princess. And since your hand goes inside, you get to live out your anti-hero fantasies as you control the piped plant.
Extending enemy
Not only can you control the Piranha Plant Puppet's mouth, but you can also make it retract into and pop out of the pipe! Both the plant and pipe are made of soft fabric, so feel free to get animated and surprise your friends or final bosses with a sudden strike.

Hide the plant inside the pipe and pop out.
World 1-1 in 3D
The Piranha Plant Puppet is made to look great from any angle with details like the embroidered stitching around its polka-dots and soft, felt teeth.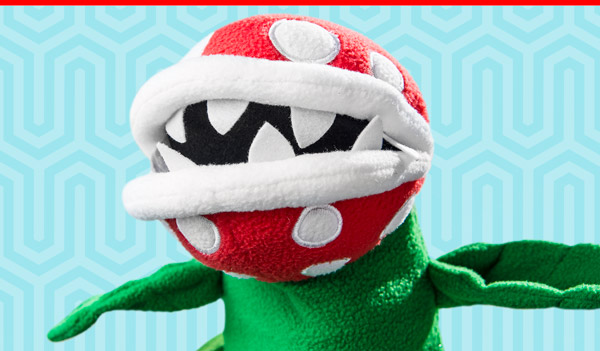 Get your hand in there, but don't let it eat you.
Frequently Asked Questions
Question: Can I operate it from the outside?
Answer: The Piranha Plant Puppet is meant to be a hand puppet, but you can use it however you like.
Question: Isn't this the bad guy?
Answer: Depends on who you ask. Is the Venus Flytrap bad?
Where can I buy this awesomeness?
Burning Questions: You Ask, We Answer
Your questions that have been answered by the Vat19.com staff:
Sort by: Show Only:
Want to ask your own Burning Question?
This product is no longer available for purchase directly from Vat19. Therefore, we are no longer accepting new burning questions at this time. Sorry!