Droid Inventor Kit
Create your own Star Wars Droid™ with LittleBits technology.
Videos

Put together your own Droid!

Connect modules the magnetic modules.

Hands assembling the droid and putting on the top.

Control R2 with your smartphone.

Invent custom Droids!

Droid Inventor Kit contents

Watch video for: Droid Inventor Kit
$70.99
This item has been discontinued.
Overview
The Droid Inventor Kit has everything you need to help create your own interactive Droid!

Use the included magnetic modules and parts to put together your very own Droid. Then interact and control it with your smartphone, playing with an ever-expanding library of activities. Drive it around, tell it what to do, give it a high five, and more! And if the default ensemble is too basic for you, customize and remix it to create your own robot friend.
Features & specs
Create, customize, and control your own Droid
Officially-licensed
Includes: 6 LittleBits modules; 15+ plastic parts, 20+ colored decals
Free app enables over 20 activities
Play with your Droid with activities like: drive and steer, high five, voice control, selfie snap, self-navigation, drawing Droid, defensive Droid, guard-the-room, dancing, and obstacle course
You may also like:
Love our videos? Please subscribe to our YouTube channel:
Magnetic invention
The Droid Inventor Kit gives you the parts to put together your very own robotic toy. LittleBits electronic modules connect magnetically without tools. Once completed, you can use a smart device app to control your creation!

"An extremely well put together little Droid, your Highness."
Droid DIY
The Droid Inventor Kit is far more than a mere figurine. Powered by LittleBits, you connect the magnetic modules without the need for extra tools. Then you put together the outer components around the working platform. Once completed, you can use your smartphone or tablet to drive it and perform other interactive functions.

"Thank the maker!"
Droid for Android or iOS
Once you power it up, the excitable and feisty creation chirps and dashes around. But it soon settles down and awaits your commands. Using your smart device, you can use a virtual joystick to pilot it where you will. Additionally, you can assign it to a variety of missions: wave its arm, use a wave of your hand to move it just like the Force™, control its head movement, set it to alert you of intruders, and even have it navigate the room on its own.
Decorate your Droid
The Droid Inventor Kit includes a transparent shell that instantly transforms your creation into an iconic character. But with a driving platform independent of the outer case, you can use your creativity to give your new creation a cool paint job or completely reimagine its look using your ingenuity and everyday household objects!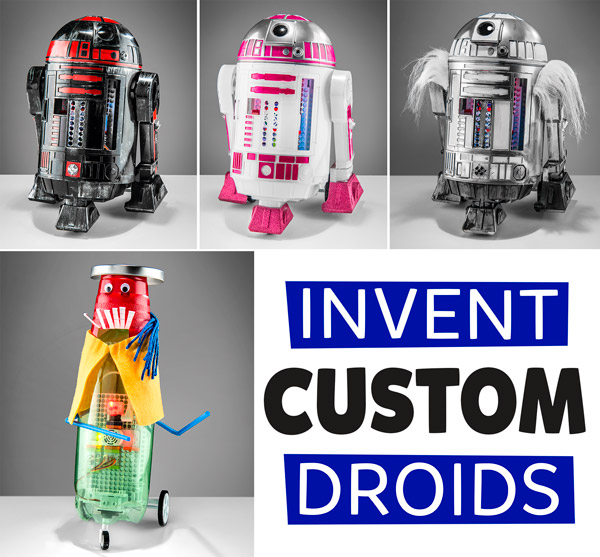 Make yours the only one like it on Earth.
Creation kit
The Droid Inventor Kit includes everything you need to put it together in the box. The set comes with six electronic LittleBits modules, fifteen plastic shell components, three sets of detailing stickers, and printed instructions to help you get started on your creation.

No tools necessary!
Frequently Asked Questions
Question: How can I get the app?
Answer: You can download the app for free from the Google Play or iOS App Store.
Question: Does it work with other Little Bits?
Answer: The pieces physically fit together and could be repurposed, but since the invention is controlled through the app, it will not function as expected if you add foreign LittleBits.
This product has been discontinued. Frown face!
Sorry, but this item is no longer available for purchase.
Burning Questions: You Ask, We Answer
Your questions that have been answered by the Vat19.com staff:
Sort by: Show Only:
Want to ask your own Burning Question?
Unfortunately, this product is not currently available for purchase. Therefore, we cannot accept any new burning questions. Sorry!
Please excuse the shameless cross promotions!