Sign and Seal Desk Pen
Pen-holding pinniped with perfect balance.
You may also like:

Overview
This is one of those rare whimsical items that strikes the perfect balance between fun and function.

Your Sign 'n Seal features a magnetic nose and a pen with a magnetic centerpiece. As the packaging says, give it a whirl.

Try not to waste too much time playing with your new pet pinniped.
Features & specs
Pen writes in blue ink
Tough rubber construction
Very twirl-able
Love our videos? Please subscribe to our YouTube channel:
Give it a twirl!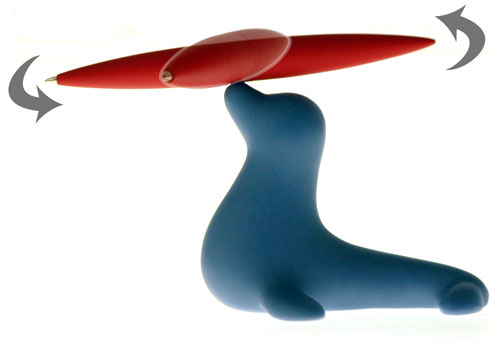 Magnetic personality
The magic of the Sign and Seal is simple. Yet, its hold on you can become unbreakable. The magnetic force holding the pen to your Seal's nose is quite strong. Give it a nice spin and yes, it may fall. That's where the skill and artistry come in.

Vat19's owner caught practicing his technique.
Screams 'Awesome' so you don't get laryngitis
While it can be tempting to self-promote in the office, it's usually a little classier to get someone to do it for you. That's where the Sign & Seal comes in.
Place him on your desk and let your co-workers ooh and ahh over your latest accessory. When they inevitably ask, "Where did you get that?", you reply (while sighing - trust us, this is crucial), "Dunno, just another of the hundreds of cool, trendy places I go when I'm not in the office." Watch the office turn green with envy.

The Sign & Seal does not require any fresh fish.
This product has been discontinued. Frown face!
Sorry, but this item is no longer available for purchase.
Burning Questions: You Ask, We Answer
Your questions that have been answered by the Vat19.com staff:
Sort by: Show Only:
Want to ask your own Burning Question?
Unfortunately, this product is not currently available for purchase. Therefore, we cannot accept any new burning questions. Sorry!