Skallops
Card-based construction set for imaginative builders.
Videos

Watch video for: Skallops
$19.99
This item has been discontinued.
Overview
Skallops are semi-circular discs that allow you to create amazing structures from regular playing cards.

Connect cards in seemingly endless configurations using the thirteen laser-cut slots in each of the birch plywood discs. Enhance your designs by joining the connectors to one another using the notch in the bottom of each disc.

With Skallops, you can build incredibly strong geometric structures or bend, crease, and cut the cards to assemble flexible and curved creations. For an extra-personal touch, substitute the playing cards with photos or business cards!

Combine multiple sets for truly impressive designs. Each set of Skallops includes a pack of playing cards and 52 wooden connectors. Please note that Skallops are compatible with any standard playing card.
Features & specs
Includes 52 birch plywood connectors
Includes one (1) deck of playing cards
Made in the USA
Compatible with standard playing cards
You may also like:
Love our videos? Please subscribe to our YouTube channel:
Playing cards are now your building block of choice!
Building with Skallops is a unique experience. The semi-circular Skallops allow you to connect regular playing cards together to create extraordinary structures.
What you can create with Skallops is far more varied (and sturdy!) than a flimsy "house of cards".

With Skallops, some playing cards, and a bit of creativity, you can create all sorts of fun designs.
Skallop connectors fuel endless creativity
Each Skallop is a flat, semi-circular plywood disc with slots laser-cut every fifteen degrees.
The slots snugly hold the playing cards and allow you to create different shapes with the same pieces by simply changing the slot used. You can also connect multiple Skallops together at any angle via the notches in their bases.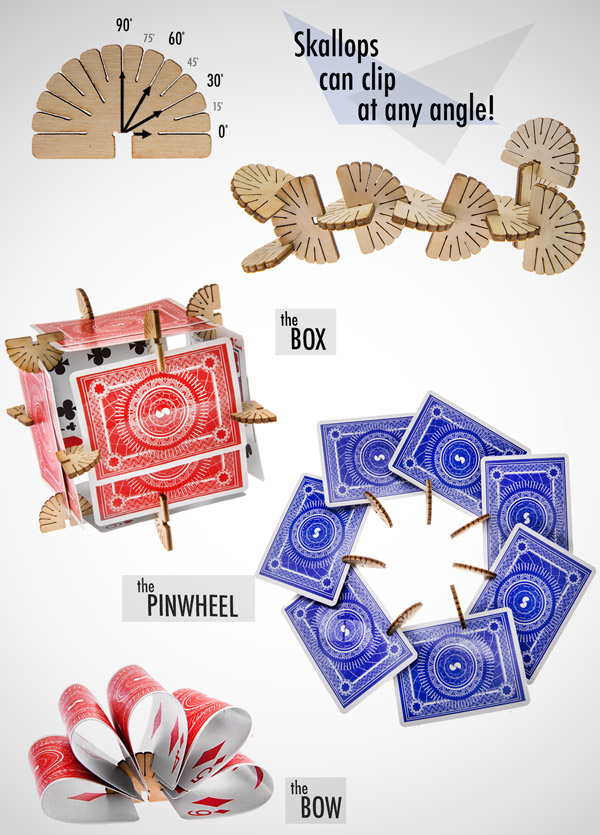 The highly versatile Skallop connector allows you to create a variety of interesting geometric shapes.
Versatility = The DNA of Skallops
The type of structures you can create with Skallops is seemingly endless.
The connectors make it possible to create rigid and strong shapes, but the flexible nature of playing cards also allows for curved and flowing designs.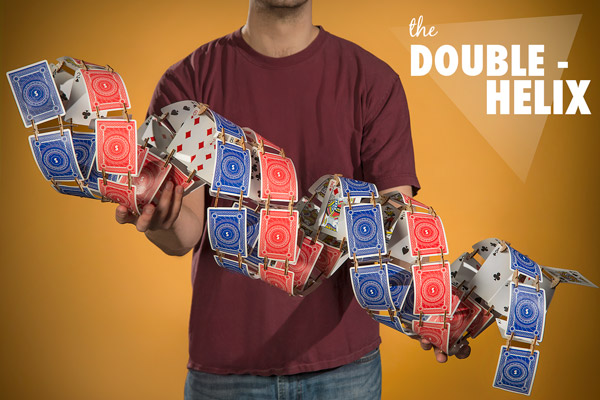 Versatility is part of the DNA of the Skallops system. See what we did there?
Morph simple playing cards into amazing structures
With Skallops, you can transform regular playing cards into a platform capable of supporting an adult... wearing shoes and jeans.

Skallops allow you to transform playing cards into incredibly strong structures.
Compatible with any standard playing cards
The Skallop connector is compatible with any standard playing card. Using inexpensive cards that can be bent, creased, and cut was a stroke of genius by the creators of Skallops. It allows you to create amazing shapes without spending a bundle!

Skallops are compatible with any standard-size playing cards. Even Black Playing Cards!
Includes everything you need to get started
A pack of Skallops includes 52 birch connectors (made in the USA!) and a full deck of playing cards. Have fun designing!

Each pack of Skallops includes 52 connectors and one (1) deck of playing cards.
This product has been discontinued. Frown face!
Sorry, but this item is no longer available for purchase.
Burning Questions: You Ask, We Answer
Your questions that have been answered by the Vat19.com staff:
Sort by: Show Only:
Want to ask your own Burning Question?
Unfortunately, this product is not currently available for purchase. Therefore, we cannot accept any new burning questions. Sorry!
Please excuse the shameless cross promotions!