Stap-Man Retro Stapler
Mini stapler inspired by the world's most popular arcade game.
$11.99
This item has been discontinued.
Overview
Inspired by the immensely popular arcade game, the Stap-Man mini stapler loves to chomp away on your disorganized papers.

Stap-Man features two small rubber "feet" to keep him firmly balanced on your desk. Comes with a small plastic box filled with 1,000 mini staples to get you started.
Features & specs
Dimensions: 2.6" (diameter) x 1.25" wide
Material: plastic
Includes 1000 staples
Uses standard mini staples available at any office supply store
You may also like:
Consider your papers his power pellets
Pac-Man is the world's most successful arcade game. His sole skill (other than moving in the cardinal directions) is his insatiable appetite for chomping.
So, it's rather fitting to make a stapler in his image, don't you think?

"Stap-Man" is inspired by the world's most popular arcade game.

"Feet" keep him from rolling away
Two bumps on the bottom of Stap-Man (because he's a stapler, get it?) keep him firmly planted on your desk.

Stap-Man's rubber "feet" prevent him from rolling around your desk.

Comes with 1,000 mini staples
The Stap-Man requires mini staples. This standard size of staple can be found in any major office supply store. However, you won't need to purchase any for quite a while because Stap-Man includes 1,000 in a small plastic box.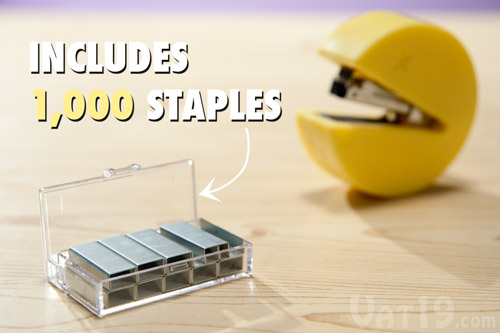 The Stap-Man Stapler includes 1,000 mini staples in a small plastic box.

Go ahead. Make the chomping noise.
Stap-Man is about having a little fun at that prison cell you call a desk. So, don't feel bad if you play with this stapler a wee bit more than your Swingline.

Add a dash of fun to your desk with the Stap-Man stapler.

This product has been discontinued. Frown face!
Sorry, but this item is no longer available for purchase.
Burning Questions: You Ask, We Answer
Your questions that have been answered by the Vat19.com staff:
Sort by: Show Only:
Want to ask your own Burning Question?
Unfortunately, this product is not currently available for purchase. Therefore, we cannot accept any new burning questions. Sorry!
Please excuse the shameless cross promotions!