Strobotop Lightphase Animator
A flashlight that makes pictures come to life.
You may also like:
Overview
Point the Strobotop Lightphase Animator at your drawings, and they'll begin to move!

The Strobotop Animator set includes a handheld strobe light with an adjustable flash and a spinning top with ring-shaped cards.

Point the light at the cards, give the top a spin, and the blur of images on the revolving card become a clearly focused looping animation. Follow the instructions to make your own animation and watch your drawings come to life!
Features & specs
Strobing flashlight and spinning top animation system
Adjustable strobe wheel
Includes 12 animation cards
Guides for drawing your own animations on the reverse of each card
Light requires 4 AAA batteries, not included
Love our videos? Please subscribe to our YouTube channel:
Spinnin' and strobin'
Strobotop is an animation toy that spins to life. When you give the top a twirl, a series of images around the disk blur together. Point the strobing flashlight at the disk, dial in the right strobing speed, and watch a moving picture emerge from the blur!
The same principle is used to create movie and television motion pictures. Experiment with Strobotop to figure out how and why your brain can be so delightfully tricked.
Time twister
Since you give the Strobotop its rotational momentum with a flick of your wrist, it doesn't always spin at the same rate. Luckily, the Lightphase LED has a jog dial you can use to adjust the rate of light pulses. When you find the right sync between the top and the light, your images will come to life with natural movement.
You can vary these combinations to increase and decrease the speed of the action on the disk and even make the action appear to run backward.
Double-sided disks
Strobotop includes 12 swappable animations on their own disks. The reverse side of each colorful disk offers space for you to create your own animations using faintly printed guides as a tool to help. Create your own character and watch them come to life!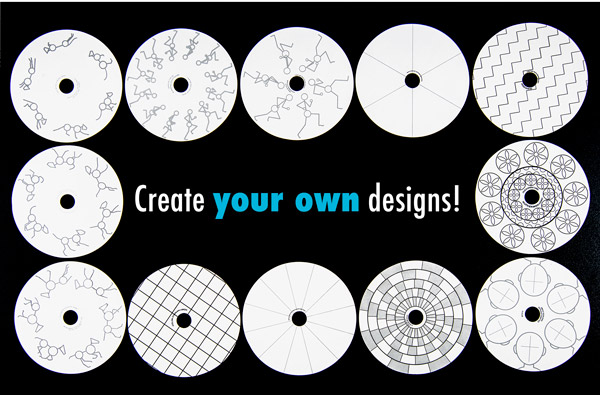 Use the set to make pictures and patterns come to life and move.
Spinning set
The Strobotop Lightphase Animator set includes a low-friction spinning disc, 12 double-sided animation disks, and a variable-rate strobe light.

Use the set to make pictures and patterns come to life and move.
Frequently Asked Questions
Question: Is it magic?
Answer: Strobotop magically tricks your brain into seeing motion that isn't there, but it's not a cursed relic of the dark arts.
Question: Can I make my own animations?
Answer: Yes! The reverse side of each of the 12 disks gives you a template to create and color in your own animations.
Where can I buy this awesomeness?
Burning Questions: You Ask, We Answer
Your questions that have been answered by the Vat19.com staff:
Sort by: Show Only:
Want to ask your own Burning Question?
This product is no longer available for purchase directly from Vat19. Therefore, we are no longer accepting new burning questions at this time. Sorry!