Tickle Monster Laughter Kit by Josie Bissett
Hardcover children's book with cuddly tickling mitts.
You may also like:

Overview
You and your kids will be laughing together with the Tickle Monster Laughter Kit. The sturdy case includes a hardcover version of the Tickle Monster Book by Josie Bissett along with a pair of plush tickling gloves.

In the story, The Tickle Monster, an adorable creature with soft blue mitts from Planet Tickle, has been sent to Earth to spread cheer and laughter. As you read the story aloud to your children, use the tickle mitts (with finger holes for easy page turning) to make them giggle and squeal with delight.

Printed with environmentally friendly soy inks. Embedded magnets in the storage case safely secure the cover flaps.
Features & specs
Dimensions (gift box/case): 11" x 11" x 3"
Includes a pair of soft, cuddly tickle gloves (one size fits all)
Embedded magnets secure cover flaps of storage case
33 pages
Printed with soy inks
Written by Josie Bissett
Illustrated by Kevan J. Atteberry
Love our videos? Please subscribe to our YouTube channel:
Give the gift of giggles
The sole purpose of the Tickle Monster Laughter Kit is for parents and kids to share time laughing together.
Although we don't normally quote directly from a product's packaging (as we'd like to think we're creative enough to at least bust out a thesaurus and change some of the words), we simply can't resist in this case. On the front of the kit, it reads, "There's no better childhood memory than time spent laughing together." We couldn't agree more. And that's why we love this kit.

Puffy blue gloves, which mimic the mitts of The Tickle Monster,
are a perfect companion when reading the book aloud.

Everything is included in the convenient storage case
The Tickle Monster Laughter Kit includes:
The Tickle Monster Book: 33 colorful pages, hardcover
Pair of Tickling Mitts: soft, plush, and cuddly gloves with finger holes for easy page turning (and tickling, of course!)
Storage Case: features an elastic strap for storing the tickle mitts as well as embedded magnets that keep the cover closed (without being a choking hazard for small children)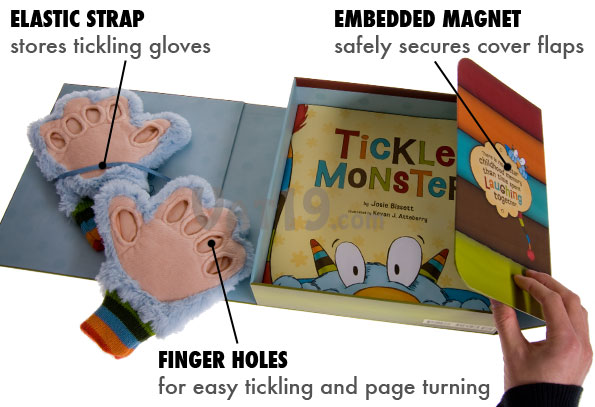 The sturdy storage case houses your tickling mitts as well as the hardcover Tickle Monster Book.

Colorful illustrations printed with environmentally-friendly inks
The Tickle Monster Book is printed using soy-based inks which, in addition to being better for ol' Mother Nature, are brighter than standard petroleum-based inks.

The Tickle Monster Book is printed using environmentally-friendly soy-based inks.
Flip through the pages of the Tickle Monster Book
When browsing in a bookstore, it's always nice to flip through the pages of a book and read a page or two. So, we decided to create a short video to approximate that experience. Play the video below to quickly flip through the pages of the Tickle Monster Book by Josie Bissett.
Where can I buy this awesomeness?
Burning Questions: You Ask, We Answer
Your questions that have been answered by the Vat19.com staff:
Sort by: Show Only:
Want to ask your own Burning Question?
This product is no longer available for purchase directly from Vat19. Therefore, we are no longer accepting new burning questions at this time. Sorry!