Twiddle Mega
Fidget, shape, and sculpt!
Videos

Watch video for: Twiddle Mega
Overview
When your fingers want to fidget, reach for the ultimate desk toy, the Twiddle Mega. Each Twiddle Mega has 175 interlocking pieces that can be sculpted, shaped, or crunched into whatever your mind can dream up.

The individual segments lock to create rigid structures but will become straight again when pulled tight. Break the five-foot chain into smaller sections to spell out words, fashion some jewelry, or attach them all together and build one huge abstract sculpture.

After lights out, your creations will really shine because the Twiddle Mega also glows in the dark!
Features & specs
Glows in the dark!
Approx. 5.1' long (155.4cm)
175 locking pieces
Ages: 6+
You may also like:
Love our videos? Please subscribe to our YouTube channel:
Free your fidgety fingers
Twiddle Mega is a fantastic fidgeting toy. It's like a stress ball somehow merged with a construction set to create the ultimate just-messing-around toy.
Start by scrunching up the linked pieces for a satisfying crunching effect, and then pulling the craggy ball into a straight line. If you ever get bored of that (seriously, it's mega fun), you can break apart any of the interlocking pieces to create fun shapes and structures.
Toss a Twiddle Mega strand in your purse to pass the time in a waiting room, keep a bunch at your desk for a mid-work break, or take them in the car to make a long road trip fly by.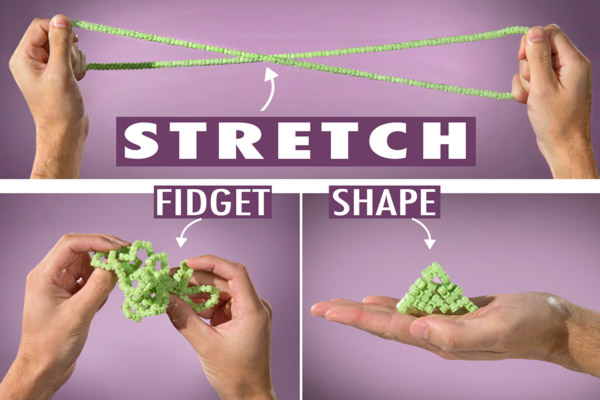 Twiddle Mega instead of your thumbs.
Pop and lock
Each piece of the Twiddle Mega is interlocking, making it simple to create multiple shapes or complex structures. To disconnect a piece, apply a bit of force to a strand, and the piece will pop out of the groove. Then simply push it back in sideways when you're ready to reconnect it.
With 175 pieces, you can make a car shape, or really challenge yourself and create a 3D pyramid.

Connect to creativity.
Get glowin'
Why shouldn't you be able to twiddle in the twilight hours? Turn out the lights, and each Twiddle Mega piece glows in the dark. It's the toy that never sleeps!

Keep the fun going, even in the dark.
Beyond the fidget
With so many interlocking pieces that you can bend, separate, or kink, you are only bound by your imagination.
Create wearable jewelry or shape Twiddle into animals, stars, and more. The rigid plastic pieces will lock to keep a shape you're working on, but are pliable for when your next idea hits.

Open up your imagination and start to Twiddle.
Question: Do the pieces lock in place?
Answer: Yes, but they are easily pulled back straight with just a little bit of force.
Question: What makes this so interesting to fidget with?
Answer: The crunchy feeling of the pieces and the fact that you can pull them apart and snap them back together makes them a very addicting fidgeting toy.
Burning Questions: You Ask, We Answer
Your questions that have been answered by the Vat19.com staff:
Sort by: Show Only:
Want to ask your own Burning Question?

First, please watch the

video

to the right. It explains the Burning Question feature and answers some common questions.

Now, if there is something that you need to know about this product that we've omitted, please send us an anonymous question and we promise to answer it within 1 business day.
Please excuse the shameless cross promotions!