Utensil Pot Clip
Dishwasher safe spoon rest clips onto most pots.
You may also like:
$29.99
$19.99
Overview
The Utensil Pot Clip is a handy little device that prevents food residue from spoons, spatulas, and other utensils from dripping onto your stove or kitchen counter. Simply clip the Utensil Pot Clip onto the edge of your pot and rest your utensil on it. Any drips will wind up back in your pot and the utensil will always be ready for use.

The Utensil Pot Clip is dishwasher safe and can withstand temperatures up to 600 degrees Fahrenheit.
Features & specs
Dimensions: 3" tall x 2" wide
Food residue drips into pot, not on to your stove
Clips onto most pots
Dishwasher safe
Withstands temperatures up to 600 degrees Fahrenheit
Rest your utensil on the side of your pot
The Utensil Pot Clip is a stainless steel clip that fits onto the edge of most any pot to hold your utensil while it's not busy stirring your latest culinary delight. This prevents unsightly drips on your stove and countertop which you would normally have to clean up later.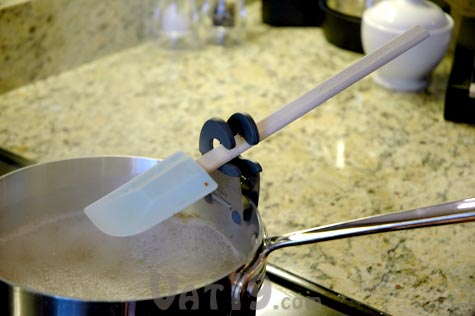 Use the Utensil Pot Clip to avoid drips onto your stove or counter.
Utensil Pot Clips are heat-resistant, dishwasher safe
You can toss your Utensil Pot Clips into the dishwasher when they become dirty. The rubber tops of the pot clips are heat resistant, so you can move the clip even if it's been sitting over a boiling pot for half an hour without fear of burning yourself. The pot clip itself is rated to handle temperatures up to 600 degrees Fahrenheit (315 degrees Celsius).

Utensil Pot Clips hold spoons, spatulas, and whisks. Too bad they can't make your food taste better.
This product has been discontinued. Frown face!
Sorry, but this item is no longer available for purchase.
Burning Questions: You Ask, We Answer
Your questions that have been answered by the Vat19.com staff:
Sort by: Show Only:
Want to ask your own Burning Question?
Unfortunately, this product is not currently available for purchase. Therefore, we cannot accept any new burning questions. Sorry!