World's Smallest Etch A Sketch
A working mini model of the classic drawing toy.
Really small and really works
Overview
Enjoy a piece of nano-nostalgia and doodle with the World's Smallest Etch A Sketch.

This tiny replica is more than just a memento; it's a fully functional toy!

Turn the knobs to draw on the screen and shake the tablet to clear your creation just like you remember. Your drawings will be on a much smaller scale, but the fun is the same size.
Features & specs
Miniaturized version of the Etch A Sketch
Really draws!
Approx. dimensions: 1.75" x 1.38" x 0.75" (4.45 cm x 3.51 cm x 1.91 cm)
Ages 6+
You may also like:
Miniaturized memories
Things usually seemed bigger to you when you were a kid, but in this case they actually were.
The World's Smallest Etch A Sketch is a fun-sized version of the beloved toy that preserves the original's simple creativity. Put this tiny tablet on display as a token of your childhood or keep it handy when you need grownup playtime.
Make and shake
At first glance, you might think this mini memento was merely an adorable decorative trinket. Despite its small stature, the World's Smallest Etch A Sketch can still draw and erase lines just like the original.
Measuring less than two inches on each side, you won't be able to sketch a sprawling landscape, but you can get in a quick doodle to feel like a kid again.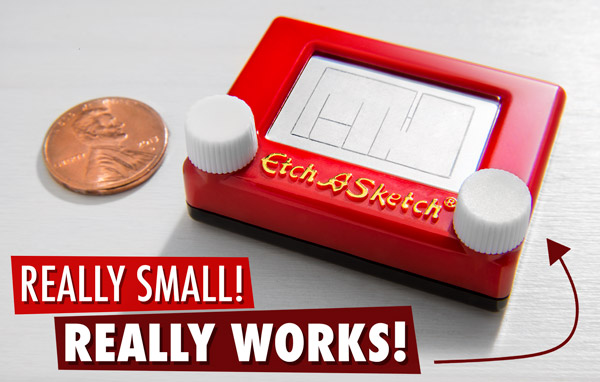 Yes, something that small can actually draw. We were surprised too.
Frequently Asked Questions
Question: How does the function compare to the original?
Answer: The World's Smallest Etch A Sketch has the same basic functionality as the original, although the smaller screen and knobs require a little more precision.
Question: Is this certifiably THE world's smallest?
Answer: It's always possible that someone will craft a smaller single version for the purpose of record breaking, but this is certainly the smallest that's commercially available.
Question: I'm big into small. Can you help?
Answer: We got your mini fix right here.
Burning Questions: You Ask, We Answer
Your questions that have been answered by the Vat19.com staff:
Sort by: Show Only:
Want to ask your own Burning Question?

First, please watch the

video

to the right. It explains the Burning Question feature and answers some common questions.

Now, if there is something that you need to know about this product that we've omitted, please send us an anonymous question and we promise to answer it within 1 business day.
Please excuse the shameless cross promotions!